No Longer Available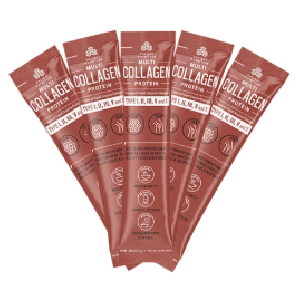 FREE Multi-Collagen Protein Stick Packs
Sep 8, 2019 @ 7:27PM CDT
|
Is Mobile Friendly
|
3 Comments
Dr. Axe is offering a FREE 5-Pack of Multi-Collagen Protein Stick Packs with FREE Shipping when you apply the promo code NEWSLETTER19 at checkout. Click this link then add to cart and use the code to make your order completely FREE! No payment info is required.
About Dr. Axe Multi Collagen Protein
Dr. Axe Multi Collagen Protein includes hydrolyzed bovine collagen peptides, chicken bone broth collagen concentrate, hydrolyzed fish collagen peptides and eggshell membrane collagen, featuring collagen Type I, II, III, V and X. Odorless, tasteless and easy-to-mix Dr. Axe Multi Collagen Protein can be added to a wide variety of healthy foods and beverages, and can: Promote healthy skin, Support healthy digestive function, Support healthy joints.
VonBeau.com does not sell products or send out any free stuff. You must request the offer through the link posted above. Samples are not guaranteed. It's at the sole discretion of the company offering the freebie/sample to fulfill any and all requests.