Did you miss this offer?
Sign up for VonBeau Text Alerts and receive a text when we publish freebies that go fast!
Kit Kat Minis $2.50 Coupon
No Longer Available
Expired:

Aug

25

,

2013

4:39pm
|
Comments

0
HOT Kit Kat Minis Coupon for up to 2 Dollars and 50 Cents Off at CVS - Hurry and print this HOT coupon to save up to $2.50 on any one bag of Kit Kat Minis [8 ounces of larger]. Simply head over to the CVS/Pharmacy website and watch the video. You can get a $1.00 coupon OR a $2.50 coupon if you share the Kit Kat Minis video with friends via Facebook, Twitter or Pinterest. This coupon is only valid at CVS/pharmacy stores.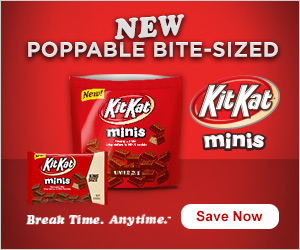 Kat Minis
They are poppable, bite-sized minis that make Anytime Breaktime. The 8 ounce Pouch of Kit Kat Minis—which are great for sharing with family & friends. Great for snacks, after dinner treats, while watching a movie or on a summer road trip.