6 bottles of Premium Wines $35.94
Updated:

Mar

6

,

2017

4:12pm
|
Comments

0
|
This page may contain sponsored content. Read the full Disclosure
Heartwood & Oak Wine is offering a up sweet deal on wine! Get 6 bottles of Premium International Wines for only $35.94 — that's just $5.99 per bottle! Click here and choose 6 Reds, 6 Whites or 3 of each. You'll also get FREE shipping ($17.95 value). This is a one-time purchase deal which means you are NOT signing up for any type of recurring subscription!! SCORE!!
Your award-winning International Intrique half-case includes: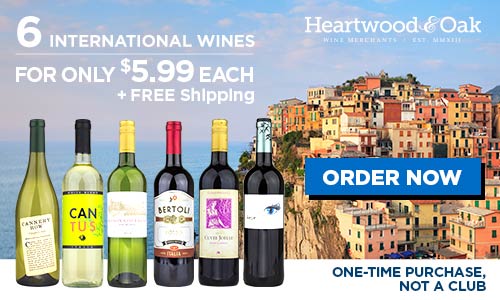 2015 Kepe Tempranillo - Valencia, Spain, 2014 Cuvee Joelle Malbec et Merlot - Comte Tolosan, France, NV Bertoli Vino Rosso - Italy, 2015 Maison Gourmand Vin Blanc - Cotes du Gascogne, France, NV Cantus Bianco - Italy, 2014 Cannery Row Cellars Chardonnay - California . Your mixed half-case includes 1 of each varietal. If you select all reds or all whites, you will receive 2 bottles of each of the 3 red or white varietals included with your voucher.
Is this offer still available?
Remember: VonBeau.com does not send out free samples or free products. Follow the instructions provided above to request the listed item.