FREE $10 Visa Gift Card Sign Up Bonus + Additional $10 Every Month
PermissionResearch is an online market research community with over 2 million members worldwide. Get a FREE $10 Virtual Visa Gift Card when you become a free member and install the PC app! PLUS, you'll receive an additional FREE $10 every month as long as you're active. No purchase required. Click here from a PC or Laptop to register then install the PermissionResearch software on your computer and you'll receive your $10 Visa gift card after 7 days.
Additional Info
This is currently only available for Operating Systems with Windows 7, Windows 8 and Windows 10.
About PermissionResearch
PermissionResearch by Comscore relies on users to gain valuable insight into Internet trends and behavior. Users earn $10 for installing the PC app, and $10 each month for participation.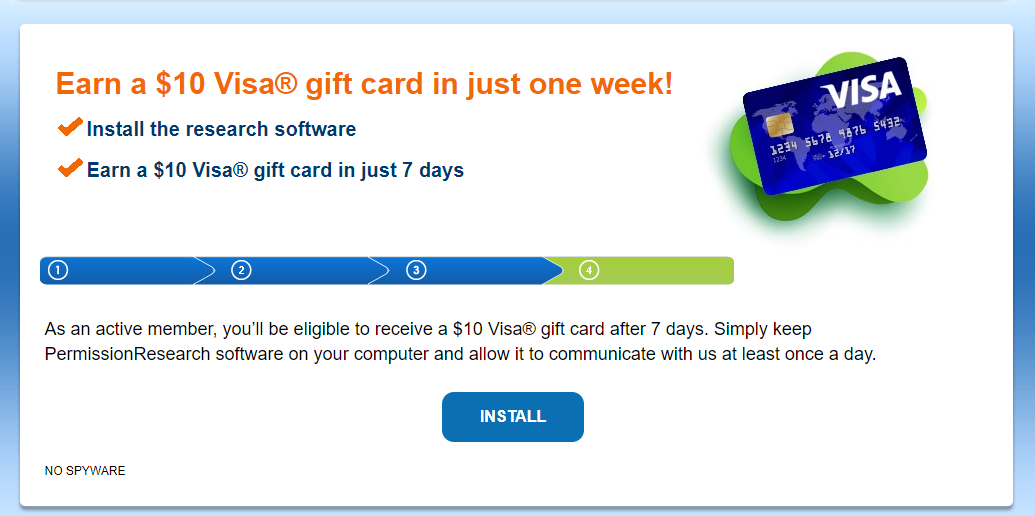 Members must install the PermissionResearch software on their computer. This software monitors the community member's internet activity & runs in the background.
Member benefits include a $10 signup bonus, and $10/month for having the software installed on PC.
PermissionResearch may occasionally invite its members to participate in exclusive online surveys that offer additional earning opportunities.
This post may contain affiliate links. See disclosure for details.