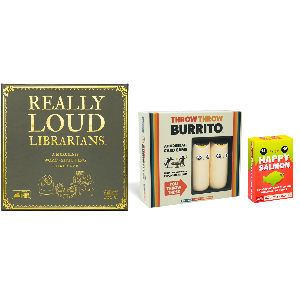 APPLY TO TRY
FREE Really Loud Librarians Game Night Party Pack from Tryazon if Chosen
Apply to host a Really Loud Librarians Game Night from Tryazon and get a FREE Party pack valued at $70+ if you are one of the 100 applicants selected. Pack will include 1 Really Loud Librarians game, 1 Throw Throw Burrito game and 1 Happy Salmon game. Click here then scroll down, click Apply Now and complete the form to apply by 1/23/23.
Additional Info
Make sure you have previously signed up to be a Tryazon Host to be eligible.
About the games
Introducing Really Loud Librarians – a merciless word-shouting board game from Exploding Kittens! Start by drawing a category card. Your team will then shout words from that category that begin with the letter on the racetrack. Think fast, not hard. Move along the track every time you get a word right and race against your opponents to win. This is a simple game for versatile occasions. Play it as a two-player game for a casual night-in or bring it along as a party game for big groups.
Also included are two bonus games to enjoy! Throw Throw Burrito - the world's first dodge-ball card game. Duck, dodge and dive squishy, airborne burritos or get hit and receive a Burrito Bruise! And Happy Salmon – the action-packed card game that will have everyone moving and laughing in under two minutes!