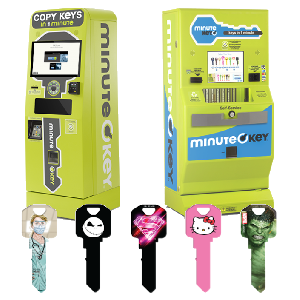 FREEBIE
FREE Key Made at minuteKEY Kiosk at Lowe's or Walmart
Get a FREE Key made at a minuteKEY kiosk near you when you enter the promo code JUL1C83FE0 on the kiosk payment screen. Code is valid only for the first 10,000 uses so hurry to your local Lowe's or Walmart store to make your key and get it for free. Visit the locator to find a minuteKEY kiosk location near you.
Additional Info
Offer expires July 31st (or after 10,000 keys are given away - whichever comes first).
About
minuteKEY is a fully automated self-service key duplication machine that can be found in Walmart and Lowe's stores.