48 FREE Personalized Sticker Labels + FREE Shipping
Tiny Prints is offering 48 FREE Personalized Sticker Labels with FREE Shipping (regularly $17.97) when you enter the promo codes APPGRAD and SAVETP at checkout. This could end at any time so don't wait or you'll miss out!! Click here then add any TWO sets of 24 priced at $7.99 each. Apply both of the promo codes to make your total $0.00 then complete your free order. For fraud prevention purposes, they do require credit card information to process your order but as long as your total is $0.00, your credit card will not be charged (see TIP below).
Additional Info
TIP: We recommend using a prepaid card or Privacy.com virtual debit card to keep you safe online when paying for subscriptions, trials or other orders. You set per-website charge limits, pause and block unwanted payments, and generate new card numbers with a click. Get a FREE $5 to spend anywhere online when you create a new Privacy account.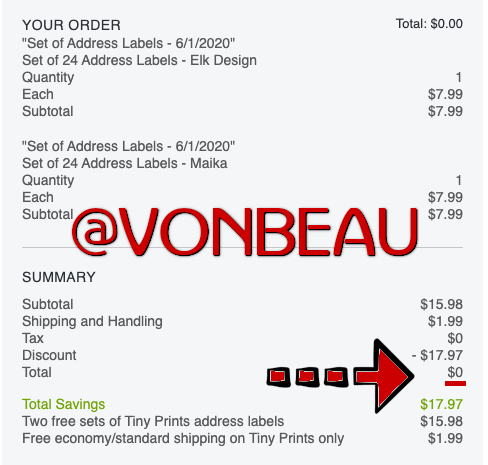 Thank you for sharing, Sarah!