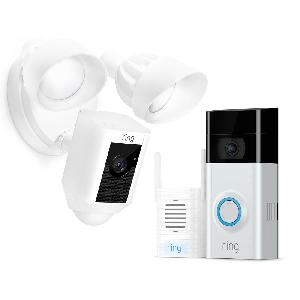 FREEBIE
FREE Ring Video Doorbells, Cams and Accessories for Referring Friends
Get a FREE $10 Ring Credit when you download the free Neighbors by Ring app, create a NEW account (it's free), verify your email and enable Two-factor Authentication. With the Neighbors app, you can access Real-Time Crime and Safety Alerts Camera Footage from homes and businesses in your neighborhood at NO cost. Plus, you will get $10 in Ring Credit for every friend you refer, which means you can score a FREE Ring Doorbell, Cam Or Accessory if you refer enough people! The Ring Video Doorbell is only $99.99 so you only need 10 people to snag that!! Follow the steps listed below to get your credit!
Here's how to get your FREE Ring Credit:
CLICK HERE then download the iOS or Android app.
Open the app and enter your info to create a NEW account.
Confirm your email by clicking on the link in the "Please verify your email address" email from Ring AND enable the Two Factor Authentication in the app to get your $10 credit.
Here are the steps to enable Two Factor Authentication (2FA).
From the side menu, tap 'Account'
Tap 'Two-factor Authentication' and 'Turn On Two-factor'
Enter your login credentials
The app will prompt to provide a cell phone number
A text message will be received with a code
Code is valid for 10 minutes' time and needs to be entered in the Ring app
Once completed, you should receive a push notification and email letting you know you've successfully earned a $10 Ring Credit (you may need to log out of the app then log back in)
Refer your friends to download the app and join through your link and they'll get a $10 and so will you! They do NOT have to make a purchase; you will get the credit as soon as they sign up through your link and the Earnings are UNLIMITED! The more neighbors that join, the safer and more aware you can be of your neighborhood as it alerts you when things happen near you!
Use your free credit towards the purchase of a Ring cam, doorbell or accessory and if you earn enough, your order could be completely free.
PLEASE NOTE: To be eligible for the $10 credit, you must sign up for a new account through a referral link, verify your email, enable two-factor authentication and allow the Neighborhood app to access your location. The credit will be available in your Ring online account (it does not show up in the Neighbors app). To locate your credit, go to Ring.com and log into your account. Click on your name at the top right then on Account and, when available, your credit will display under the Ring Credit Balance section.
About Ring Neighborhood Watch
Download the only app that updates you with real-time crime and safety alerts from your neighborhood. Keep connected and stay informed with up-to-date news from your neighbors, your community and local law enforcement, so we can work together to create safer neighborhoods for all.
This post contains our referral link. Thank you for signing up if you do! Feel free to share your own referral link in the comments below!