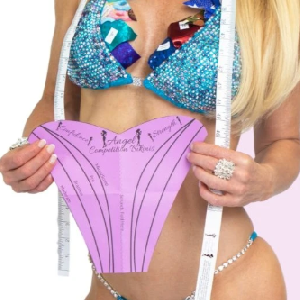 FREEBIE
FREE Angel Competition Bikinis Design Package with Fabric and Crystal Samples, Tape Measure & More
Angel Competition Bikinis makes competition suits for Bikini, Wellness, Figure, and Women's Physique Divisions. They offer a FREE Angel Design Package that includes your choice of 8 fabric samples, crystal samples, bikini back cut template, tape measure and guide so you can . No credit card required. Thank you Jennifer!
About Angel Competition Bikinis
Angel Competition Bikinis was founded by Karah and Lauren Beeves in 2013 with the aim of providing bikini and figure competitors quality suits to help them stand out and feel confident on stage. Angel Competition Bikinis are made with YOU, the competitor in mind. Every suit is handmade by Karah, Lauren, and the Angel Competition Bikinis team. There is no outsourcing nor mass production in their manufacturing process. Only the highest quality material is used. They've been on the same stage as you, on the prep with you, and live the lifestyle with you. Karah and Lauren know how important the quality of your competition suit is and that is why all of their products are made in limited quantities to maintain integrity and quality.