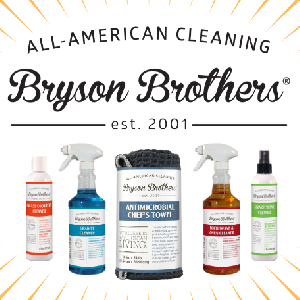 FREEBIE
FREE Bryson Brothers Spring Cleaning Party Kit if Chosen (Apply)
Apply to host a Bryson Brothers Spring Cleaning Party from Tryazon on March 6-7, 2020. If you are one of the 100 hosts selected, you'll be shipped a FREE Party Pack valued at $200+ that includes: Bryson Brothers Cooktop Cleaner with 4 scrubbing pads, Bryson Brothers Granite Cleaner, Bryson Brothers Antimicrobial Chef's Towel, Bryson Brothers Microwave & Oven Cleaner and 12 bottles of 9-oz Stainless Steel Polish, for guests. Good luck!
About Bryson Brothers Cleaners
Bryson Brothers Cleaners have been formulated to be powerful, safe and effective in cleaning even the most troublesome surfaces around your home. Safe for your family and for the environment, Bryson Brothers Cleaners is the solution to all the frustrating messes around the house.