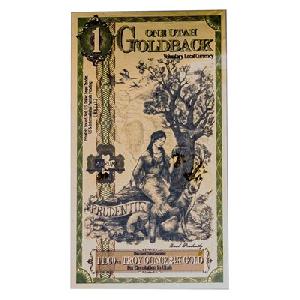 FREE MONEY
FREE Goldback 24K Gold Currency from United Precious Metals Association
The Utah Goldback is the first local, voluntary currency to be made of a spendable, beautiful, physical, recoverable 24K gold. Get one FREE Goldback 24K Gold Currency in the mail, completely free of charge, when you sign up for a free member account with the United Precious Metals Association. No purchase is required! The exchange rate for one Goldback is currently $2.84. Click here then click the Sign Up button at the top, create your free account and you'll receive a "Welcome to UPMA" email with the more details and what to expect. Your promotional Goldback will arrive in your mail in about 2-4 weeks in a plain white enveloped from "The United Precious Metals Association". Offer is limited to one promotional Goldback per household.
About Goldback
The Goldback is a voluntary, local currency in Utah that is made from gold. It can also stand alone as a small denomination, low price point gold product. Unlike most gold products, the Goldback is designed to be used as a currency with interchangeable denominations rather than varying premiums based on gold content. They can be used/spent nearly anywhere in the world.
Members that order one hundred or more Goldbacks through their account will also receive a free Goldback wallet. Goldback wallets are designed to hold Goldbacks without bending them and are made from genuine leather.