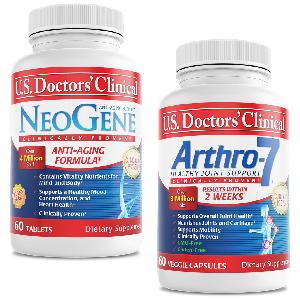 FREEBIE
FREE bottle of NeoGene Anti-Aging Formula or Arthro-7 Joint Recovery
First Month of NeoGene or Artho-7 for FREE - U.S. Doctors' Clinical is offering your first bottle of NeoGene Anti-Aging Formula OR Arthro-7 Joint Recovery completely FREE (regularly $29.99)! Cancel anytime! Offer is limited to one free bottle per customer. Click here then select the one you want and add to cart. Enter your shipping info then apply the code ERIKA to make your total $0.00. Since this is a monthly subscription, you will need to enter a credit card, debit card or prepaid card to checkout. You will not be charged as long as you cancel before your next shipment. To cancel, you'll need to call them at 1-800-914-0594 or email them at support@usdoctorsclinical.com. If you like the product and want to continue receiving a new bottle every month, do nothing and your card will be charged $29.99 each month until you cancel. Thank you Tandi!
Additional Info
TIP: We recommend using a prepaid card or Privacy.com virtual debit card to keep you safe online when paying for subscriptions, trials or other orders. You set per-website charge limits, pause and block unwanted payments, and generate new card numbers with a click. Get a FREE $5 to spend anywhere online when you create a new Privacy account.
About NeoGene
Embrace the best years of your life with the antiaging vitality formula of NeoGene. Ginkgo biloba, Hypericum perforatum, vital amino acids PABA and DMAE and other key nutrients are proven to brighten mood, sharpen the mind, and support heart and neuro-health. Extend the life of cells by protecting their ability to replicate.
About Artho-7
Reach your physical flexibility goals and maintain joint health with best-selling formula Arthro-7. Clinically proven to improve joint comfort and range of motion in as little as two weeks, Arthro-7 is a proprietary blend of seven specially formulated ingredients designed to rebuild damaged joint tissue and cartilage while restoring mobility and physical comfort through a complex of collagen protein, bromelain, turmeric, and other vital ingredients.