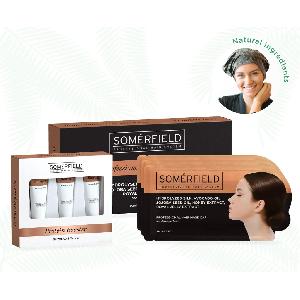 FREEBIE
FREE Somerfield Beauty Hair Repair Starter Kit (Reg $89.80) + FREE Shipping
UPDATE: Shipping is no longer free; it'll be around $5.00. For a limited time, you can get a FREE Hair Repair Starter Kit (Reg $89.80!) when you sign up for a Somèrfield Beauty subscription. Shipping is currently FREE to so you'll want to jump on this deal!! Trial Kit includes 3x Hair Mask treatments and 3x Protein Boosters. You can cancel at any time without any obligation. Click here then click the RUSH MY TRIAL button to get this deal before it ends! After you receive your first free shipment, you'll need to cancel before your 30 days trial is up if you don't want to continue the subscription. If you like the products and want to continue, do nothing and your card will be billed $59 every 3 months, until you cancel.
Additional Info
TIP: We recommend using a prepaid card or Privacy.com virtual debit card to keep you safe online when paying for subscriptions, trials or other online orders. You set per-website charge limits, pause and block unwanted payments, and generate new card numbers with a click. Get a FREE $5 to spend anywhere online when you create a new Privacy account.
About Somèrfield
Scientifically formulated using premium natural + organic ingredients, the Somèrfield Hair Mask system is your complete hair repair solution! This popular program is designed to deliver maximum results in 3 easy to use, professional-quality treatments, bringing hydration, health and shine back even into the most stubborn hair. We guarantee a noticeable difference or your money back!