No Longer Available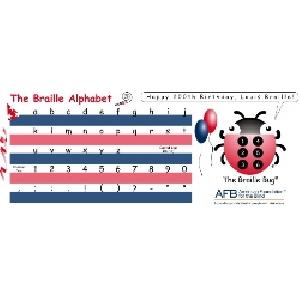 Free Braille Alphabet Card
FREE Braille Bug Braille Alphabet Card for Kids from AFB - The American Foundation for the Blind [AFB] is offering a free "Braille Bug" braille alphabet card for kids. Just fill out the form on their website and they'll mail you one for free. While you're on their site, be sure to check out "Braille: Deciphering the Code" and the other informative links about Braille.
American Foundation for the Blind
AFB Celebrates 200 Years of Braille! When you first look at something written in braille, all you see (or feel) is a jumble of dots! However, like any other code, braille is based on a logical system. Once you understand it, you'll be able to read and write braille easily. That's because braille is not a language, it's just another way to read and write English (or any other language, such as Japanese).