FREE $120 Worth of Food ~ Just Pay $4.99 Shipping
THIS DEAL IS INSANE!!! Score $120 Worth of Food for FREE from HelloFresh and all you have to pay is $4.99 shipping!! Select 3 Meals for 4 People and the box will be $0.00! You'll pick your meals after you place your order then go skip the next few weeks so you have a chance to get your first box and try the food. HURRY HERE to grab this deal before it ends, which will likely be very soon! Be sure to set a reminder to cancel if you don't want to continue at full price after your first free box.
Additional Info
Yes, the first box of food is free! This is a subscription so you will need to enter payment info but you will only be charged $4.99. They only use your payment info after that if you choose to continue receiving deliveries. Remember, you can skip weeks or cancel anytime. You must cancel or you will be charged for future boxes.
INSTRUCTIONS
Click here then 'Follow link' to access the special promo.
Select the box size for 4 People with 3 Meals per week OR 2 People with 5 Meals per week.
Enter your info then go to checkout and your first box will be $0.00; just pay $4.99 for shipping! You'll get to select your meals immediately after you submit your order.
If you don't want to receive any further meals after your first box, simply cancel before your next shipment. We suggest skipping the next few weeks to allow you time to receive your first box.
This is a subscription but you can update your preferences and skip, pause, or cancel at any time!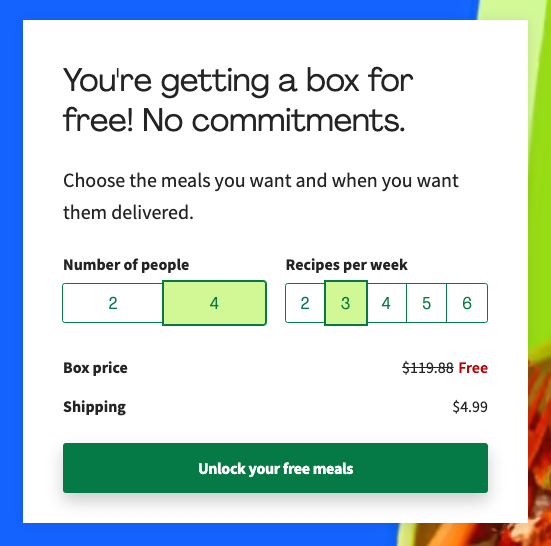 About Hello Fresh
At HelloFresh sustainability is an integral part of our business model. Our goal is to build food solutions with the least possible impact on the environment. While we always assumed our product is more environmentally friendly than meals with ingredients from the supermarket, we have now gathered proof through an ISO 14040 compliant life cycle assessment (LCA).