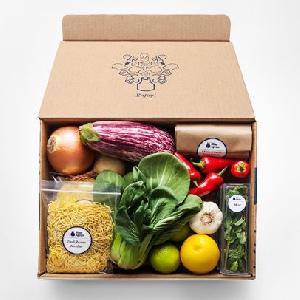 DEAL
4 Meals from Blue Apron ONLY $2.96 + FREE Shipping (A $57.95 Value!)
Blue Apron just released their BEST DEAL EVER! For a limited time, new users can get 4 Fresh Meals for ONLY $2.96 with Free Shipping to your home, a value of $57.95! That's just $0.74 PER Meal! Choose from an ever-changing mix of meat, fish, Beyond Meat, WW Recommended, Diabetes Friendly recipes and health-conscious offerings. This could end at any time so don't miss out on cheap meals delivered directly to your home!
INSTRUCTIONS
Click here and select the 2 servings 2 meals per week option, which makes a total of 4 Meals.
Enter your info then go to checkout and pay just $2.96 for your first box! You'll get to select your meals immediately after you submit your order.
If you don't want to receive any further meals after your first box, simply cancel before your next shipment. We suggest skipping the next few weeks to allow you time to try the delicious meals.
If you like the meals and want to receive more, you'll get $35 off your second order then $30 off the following 4 orders.
You can update your preferences and skip, pause, or cancel at any time!