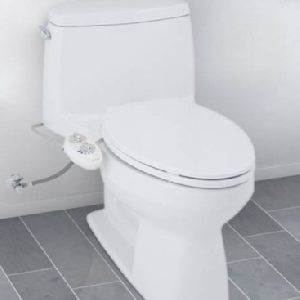 DEAL
LUXE Bidet W85 Dual-Nozzle Self-Cleaning Bidet Attachment $19.97 (Reg. $35)
Walmart has the LUXE Bidet W85 Dual-Nozzle Self-Cleaning Bidet Attachment on sale for $19.97 (regularly $34.97). This is a dual-nozzle, non-electric mechanical bidet attachment that uses fresh water to reduce the use of toilet paper and increase hygiene.
If you're not a Walmart+ member, get FREE Shipping on this order when you sign up for the Free 30-Day Trial. No credit card required.
Product description
The W85 features dual nozzles for rear and frontal wash. The frontal or feminine wash is a gentler, lower-angled spray that is useful for monthly cycles and is highly recommended by new or expecting mothers. The W85 is equipped with a chrome-plated water pressure control knob that allows the user to activate and adjust water pressure. With clearly defined settings, the bidet is user-friendly and can easily be operated by children and the elderly. The bidet features a convenient, hygienic nozzle guard gate for added protection and easy maintenance. The hygienic nozzle guard gate ensures that the bidet is always ready for clean operation and can open for easy access to the nozzles. When the bidet is not in use, the nozzles retract for hygienic storage allowing for double protection behind the nozzle guard gate. The W85 also features an innovative self-cleaning sanitary nozzle that streams fresh water directly over the nozzle for rinsing before or after use.