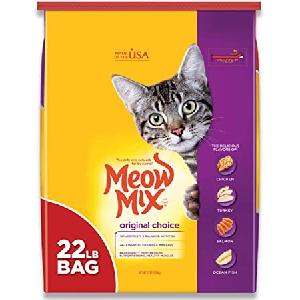 DEAL
22lb Bag of Meow Mix Original Choice Dry Cat Food ONLY $10 after Cash Back (Reg. $18.98)
Today only, you can score a 22lb Bag of Meow Mix Original Choice Dry Cat Food from Amazon for as low as $10.03 after cash back from the Brandclub app! You'll initially pay $18.03 then you'll get $8 back in your Brandclub account that can be cashed out to PayPal or Venmo. If you're new to Brandclub, you'll get a FREE $10 Bonus just for making an account, which means this deal could be FREE for you! Follow the instructions below to get this hot deal before it ends.
How to get your cash back:
Click here then download the Brandclub app and sign up to get $10.
Connect your accounts (Amazon, Target, Walmart and Chewy) to earn additional bonuses for a limited time.
Go to the Home screen on the app then scroll down to Best Rewards.
Click on the Meow Mix offer and it'll take you to the product page on Amazon.
Select Subscribe & Save to get the lower price (you can cancel after the order ships) then place your order.
Click the (+) Sync button in the Brand Club app immediately after your purchase to claim the reward.
Then, once the product is delivered, click the (+) Sync button again to unlock the reward.
Click on Rewards at the bottom then Cash Out at the top and choose where you want your money sent to (PayPal or Venmo).
You will need to enable notifications and verify your email before your first cash out. To do so just click the "Enable notifications" link and also the "Verify email" link under the cash out option and follow the instructions.
If you are not able to cash out right away, close the app and try back later.
It may take a day or so for the rewards to become unlocked.
After you Cash out, your money will be sent to your PayPal or Venmo account usually within 24 hours. You will receive an email confirming your cash back payment from Brandclub.
Be sure to check out the other Best Rewards deals that Brand Club has to offer. Items change every day.
If you haven't watched the Tutorials in the app, we highly recommend doing so. It's a great way to learn how all about how Brandclub works.