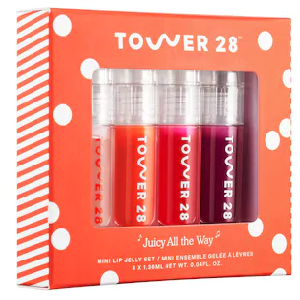 DEAL
Tower 28 Beauty Mini Juicy All The Way Lip Jelly Set $8 (Reg. $20) + FREE Shipping
At Sephora you can get the Mini Juicy All The Way Lip Jelly Set for $8 when you use the code MAJORSALE to get an extra 20% off of the sale price. Also, you can use the code FREESHIP to get FREE shipping! This set is normally sold for $20, so this is amazing savings! You will get 4 ShineOn Lip Jelly lip glosses in CHILL, FIRE, XOXO, and FEARLESS. Click here to buy!
Description:
A limited-edition set that features four mini, bestselling ShineOn Lip Jellies.
The ShineOn Lip Jelly Lip Gloss is a moisturizing lip treatment formulated with a unique blend of five nourishing oils to soothe and protect lips. The juicy shades included in this set are bright and fun in the tube but sheer and wearable when applied. The pigments help enhance the natural color of your lips to create juicy, one-of-a-kind lip colors.