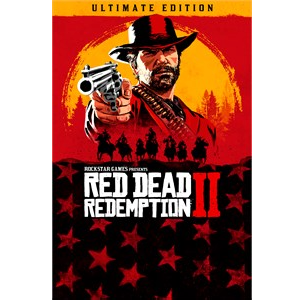 DEAL
Red Dead Redemption 2: Ultimate Edition Xbox Digital Copy $39.99 (Reg. $99.99)
Get a digital Xbox copy of Red Dead Redemption 2: Ultimate Edition from the Microsoft store for only $39.99, normally $99.99! This game is a digital copy for the Xbox One or Xbox Series X/S. Check out the other games that are part of the Xbox Coundown sale! The sale ends January 3rd, 2021. Click here to purchase Red Dead Redemption 2: Ultimate Edition.
Description:
Includes Red Dead Redemption 2: Story Mode, Red Dead Online, plus all Special and Ultimate Edition content.
Winner of over 175 Game of the Year Awards and recipient of over 250 perfect scores, Red Dead Redemption 2 is an epic tale of honor and loyalty at the dawn of the modern age.
America, 1899. Arthur Morgan and the Van der Linde gang are outlaws on the run. With federal agents and the best bounty hunters in the nation massing on their heels, the gang must rob, steal and fight their way across the rugged heartland of America in order to survive. As deepening internal divisions threaten to tear the gang apart, Arthur must make a choice between his own ideals and loyalty to the gang who raised him.
Red Dead Redemption 2 also includes the shared living world of Red Dead Online – forge your own path as you battle lawmen, outlaw gangs and ferocious wild animals to build a life on the American frontier. Build a camp, ride solo or form a posse and explore everything from the snowy mountains in the North to the swamps of the South, from remote outposts to busy farms and bustling towns. Chase down bounties, hunt, fish and trade, search for exotic treasures, run your own underground Moonshine distillery, or become a Naturalist to learn the secrets of the animal kingdom and much more in a world of astounding depth and detail.