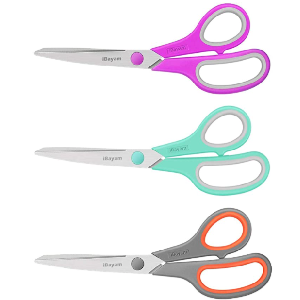 DEAL
iBayam 8" Multipurpose Scissors Bulk 3-Pack $7.70 (Reg. $18.99)
Amazon has the iBayam 8" 3-pack scissors on sale for $7.70. This item is normally sold for $18.99. Shipping is free on orders $25 and up, and for Prime members. This 3-pack comes in the colors mint green, purple pink, and steel grey. Click here to purchase.
Overview Of Product:
Great for cutting burlap, paper, cardboard, light line, fabric, tape, photos. Perfect for sewing, tailoring, quilting, dressmaking, cutting patterns, alterations, hand craft. Exceptional scissors for multiple uses around the home, in the Handcraft Workshop, in the bathroom, on the dresser, in the study, in the laundry room, mail room, craft room, at the office, great for most regular household tasks. Suitable for teachers middle / high school classroom supplies.