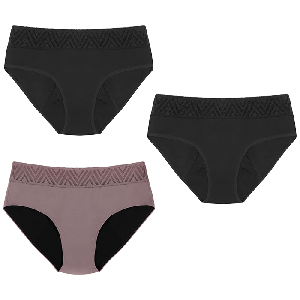 DEAL
Thinx Period Undies & Apparel $10 Off + 20% Off + FREE Shipping for New Customers
Ladies! We're so happy to share this offer with you! Thinx, the underwear made just for wearing during your period, is have a sale for 20% off period undies and apparel on their website! On top of that, you can get a FREE $10 to spend and FREE Shipping when you create a new customer account. Thinx rarely goes on sale so if you've been wanting to try a pair of the amazing period undies, get them now and save that money!
About Thinx
Thinx makes period underwear for every kind of flow. Our underwear is machine-washable, reusable, and designed to replace pads and tampons. They're like regular underwear, but *so* much better.
I have a pair of their period underwear and love them. They are so comfortable and feel like regular underwear, yet they are very absorbent and there is no leakage. I've been wanting to get another pair but since they are a little on the pricey side, I haven't done so until today! I scored a pair for $17 that were normally $34! ~Jamie
This post contains our referral link. We will also get a $10 off credit if you use our link so thank you if you do!