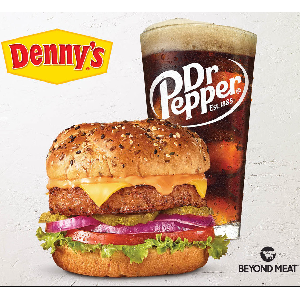 DEAL
FREE Denny's Beyond Burger with any Drink Purchase on January 30th
On Thursday, January 30th, Denny's is offering a FREE Beyond Burger with the purchase of any beverage at all participating locations from 11am to 10pm, while supplies last. Dine in only. Click here for more info or to find a Denny's restaurant near you.
About Denny's Beyond Burger
The Denny's Beyond Burger features a 100% plant-based Beyond Burger patty topped with freshly sliced tomatoes and onions, crisp lettuce, pickles, American cheese and All-American sauce on a multigrain bun. The Beyond Burger is designed to look, cook and taste like a beef burger, but has more protein, less total and saturated fat and no cholesterol compared to a regular beef burger, and is made without soy, gluten or GMOs.