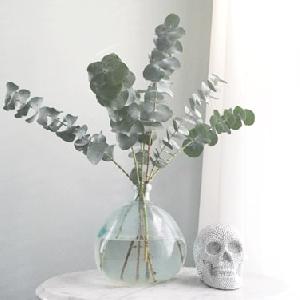 DEAL
Fresh Eucalyptus Bouquet ONLY $9.60 Shipped (Reg. $19.50)
Eucalyptus Farms is offering new members their first Fresh California-grown Eucalyptus Bouquet for only $9.60 + Free Shipping (regularly $19.50). Cancel any time. Naturally grown in California, each bouquet comes with twelve 20-inch sprigs of baby blue eucalyptus and care instructions. Each bouquet is cut, bundled, and boxed on the same day to ensure freshness upon arrival. Perfect for your home, apartment, office, or studio, eucalyptus is an aesthetic show-stopper in any space. Click this link then ignore the $5 off pop-up offer (it does not include free shipping like this offer does) and click the Subscribe button. You'll see the promo code EUCDEAL automatically applied at checkout, giving you a 20% discount and free shipping then complete your order. Subscriptions automatically renew but you can skip a month or cancel at any time.
Additional Info
TIP: We recommend using a prepaid card or Privacy.com virtual debit card to keep you safe online when paying for subscriptions, trials or other orders. You set per-website charge limits, pause and block unwanted payments, and generate new card numbers with a click. Get a FREE $5 to spend anywhere online when you create a new Privacy account.
About Eucalyptus Farms
Eucalyptus Farms has been growing the country's best eucalyptus since 1973. Today, their small team of experts grow and gather the freshest sprigs of baby eucalyptus for your bouquets. They cut, box, and ship your eucalyptus on the same day to ensure freshness upon arrival.