CBD Oil 100mg 1oz Bottle $2.95 Shipped
Have you been wanting to try CBD oil? Pure Extract is currently offering a Free 1 oz trial bottle of 100mg Hemp Cannabidiol CBD Oil; just pay $2.95 for shipping! Unlike THC, CBD does not cause any feeling of "high," which contributes to its legalization across the United States. To get this deal, click this link then fill out the form and click "Rush My Free Trial". Once you do that, WAIT FOR THE POP-UP that offers this deal for $2.95 and click to apply (see screenshot below). Enter your payment info, complete your purchase and look for your order to arrive within 2-4 business days. Offer is limited to 1 trial bottle per household. *IMPORTANT INFO* By signing up for the free trial, you are enrolling in their auto-ship program. However, you may CANCEL AT ANYTIME. If you only want the Free trial bottle and no more after that, be sure to cancel BEFORE your 15-day Free Trial ends by calling 1-855-771-9378. If you like the product and want to receive more, do nothing and you will be charged the Monthly VIP membership of $94.95 (S&H Included) until you cancel.
After you enter your shipping info and go to checkout, wait until this offer pops up to only pay $2.95 shipping instead of $4.95.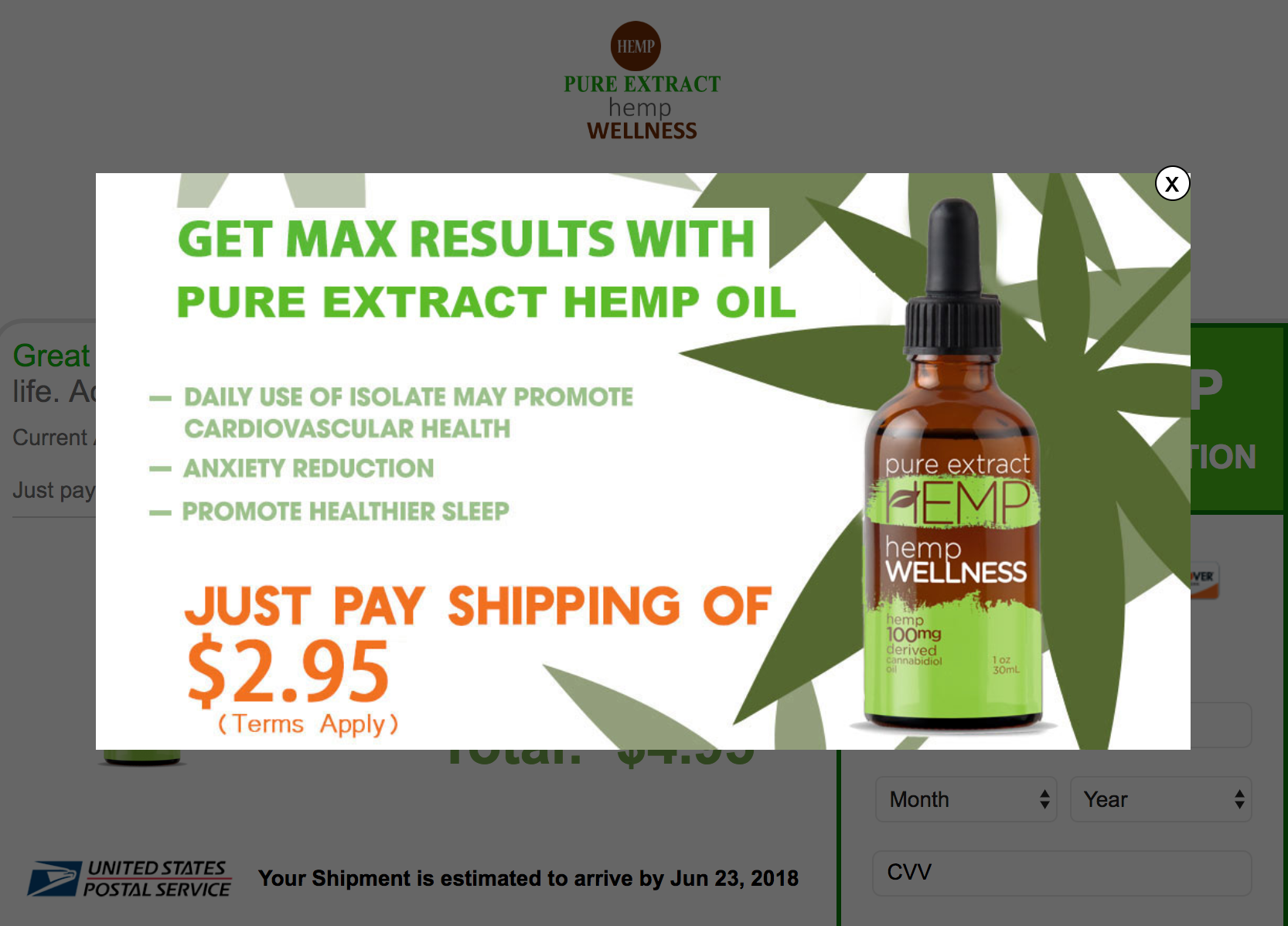 How does CBD work?
CBD primarily interacts with the body's endocannabinoid system, a grouping of millions of cannabinoid receptors found throughout your body, but are primarily clustered in the brain and central nervous system. While CBD is a phytocannabinoid, or plant-based cannabinoid, your body also naturally produces cannabinoids, known as endocannabinoids. Almost every organ of your body, including your skin and digestive tract, contains cannabinoid receptors. The endocannabinoid system has four primary purposes including neuroprotection, stress relief, immune response, and regulating the body's general state of balance, impacting faculties such as appetite, sleep, mood, and pain.
Unlike THC, CBD does not interact directly with the two classical cannabinoid receptors (CB1 and CB2). This is why CBD does not cause any psychoactive effect. Instead, CBD inhibits the enzymes that break down endocannabinoids, leading to an increase in your body's naturally-produced cannabinoids.
About Pure Extract
Pure Extract Hemp Oil is 100% natural and does not contain any dangerous synthetic chemicals or stimulants. The best part of Pure Extract Hemp Oil is that it contains absolutely NO THC. THC is the component in Marijuana that gets smokers "High" while the real medical benefits come from the non psychoactive component, Cannabidiol.