FREE 18-Count Pack of Tampons
For a very limited time, Athena Club is offering NEW customers a FREE 18-Count Pack of Tampons with FREE Shipping when you apply the promo code: FIREWORKS at checkout. PLUS, you'll get another FREE month when you use our referral code: JAMIE657. You will need to enter payment info but you will not be charged for the first free pack as long as your total shows as $0.00. This offer could end at any time so scroll down and follow the instructions so you don't miss your chance to give Athena Club a try at no cost. **IMPORTANT** By taking advantage of the free pack you will be subscribing to the subscription service. However, you can cancel or pause your subscription at any time online through your account with no further obligation. Enjoy! Thank you Cora!
Here's how to get your FREE tampons:
CLICK HERE and choose either the Premium Tampons or Organic Tampons.
Choose the tampon sizes you want.
Select "Every 2 Months" as the shipment frequency (so you'll have time to cancel).
Apply the promo code FIREWORKS at the very top of the checkout page to make your order FREE.
Enter our referral code: JAMIE657 in the first box under "Shipping Address" to get your next box for FREE as well!
Provide your shipping and billing info (a credit/debit or prepaid card is required but you will not be charged as long as you cancel before the next box ships).
Complete your order then your free box should arrive in 2-4 weeks.
About Athena Club
Athena Club offers Premium or Organic tampons made with a BPA free plastic applicator. No harmful chemicals. Maximal leak protection. With free delivery, you can skip the lines at the store. Athena Club tampons come in convenient zip pouches. Made in Europe. Packaged in the USA. The links in this post contain our referral link. Thank you for signing up if you do!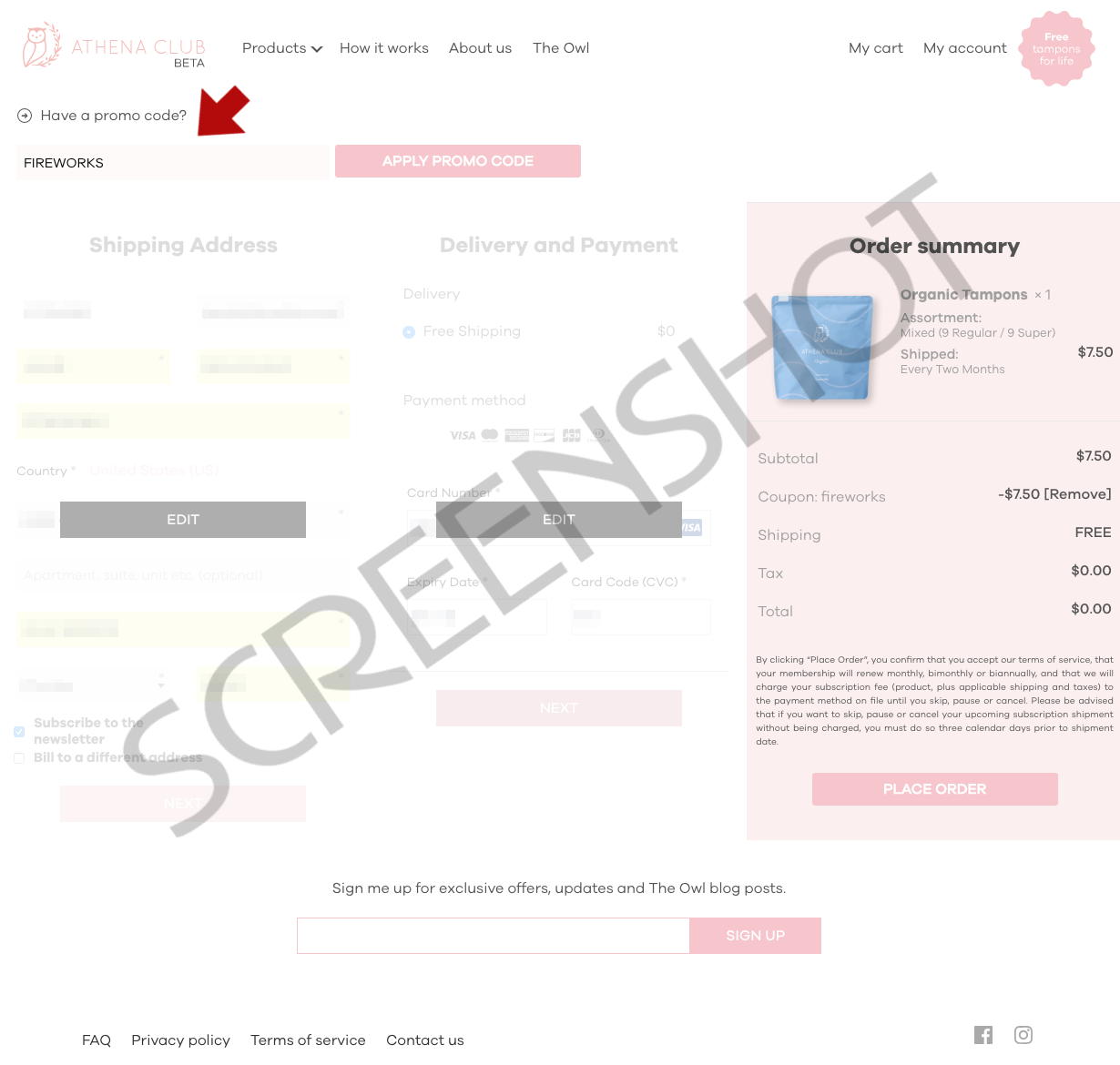 Feel free to share your referral link and code in the comments below! To do so, simply click on register or log in at the top right of this page (rotate screen if on mobile) then post your comment with your referral link. 🙂