$25 Gift Card ONLY $15 | Amazon, Walmart, Target, Starbucks, Petco & Many More
Monday, Aug 30, 2021 | 3 Comments | Disclosure
With Sixth Continent, you can save money on gift cards to Amazon, Walmart, Target, Starbucks, Whole Foods, Chipotle, CVS, Petco, Sephora, DSW, and many more. Right now, you can get a $25 Gift Card ONLY $15 + 3 Months FREE of Orange Premium Subscription when you sign up as a NEW member today! As soon as you join, you'll get a $10 credit ($5 in Credits and 12,500 in Points, which equals $10 total) that you can use on your first gift card purchase. Click this link then click on "Login" at the top then "Not yet Registered" and create your account. Once you've complete the all the steps and confirmed your email, you can use your $10 in Credits and Points to buy a $25 gift card of your choice for only $15. Pay for your purchase and your gift card will be available in your account in 2 business days. PLUS, you'll earn credits on your purchases.
TIP: To get the best deal, choose the Reward Link Preferred card which is from Tango Card. When you go to the Tango / Reward Link Preferred website, you can choose Amazon (or any other gift card option on their site; they have just any you can think of!). Below is a screenshot of what you'll need to choose if you want an Amazon gift card. ALSO, when you choose the Reward Link Preferred card, you'll earn 50% back, which is way more than you'd earn if you chose the any of the other cards.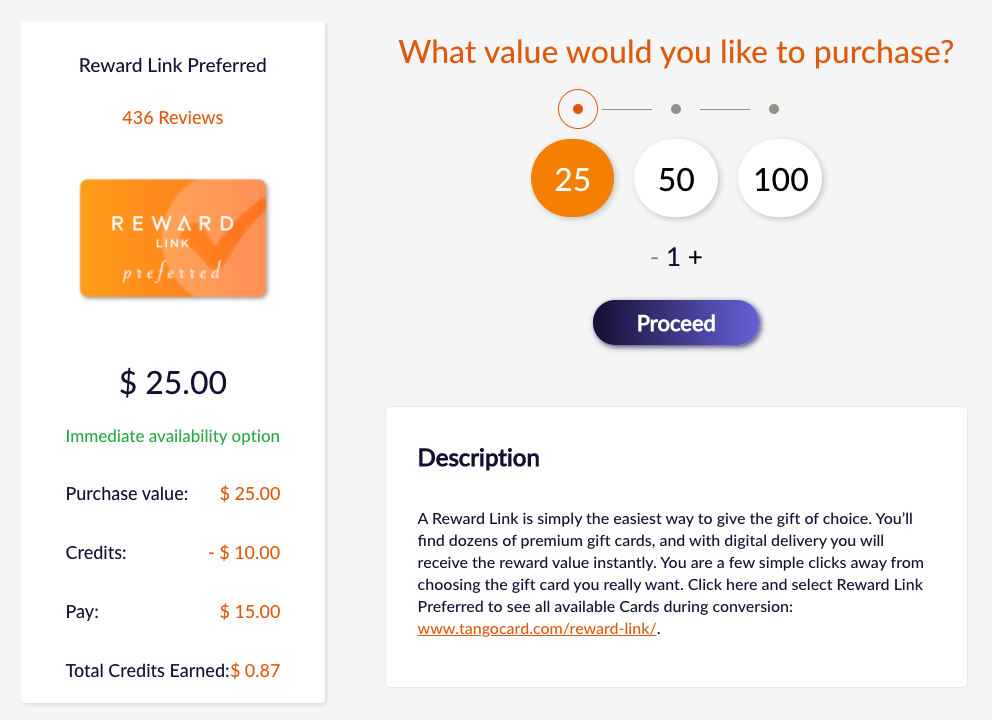 This post contains our referral link. Thank you if you sign up! Feel free to share your referral link in the comments below.