FREE $1,000 Cash for Referring 5 Friends to Acorns (Ends 8/21)
Wednesday, Aug 18, 2021 | Comment | Disclosure
Acorns is once again offering $1,000 for FREE and YES, that ONE THOUSAND US DOLLARS can be cashed out directly to your bank!! All you have to do is sign up for an Acorns account and invest $5. You'll also get a $5 Bonus when you do! Refer 5 friends to do the same thing you just did and you WILL get $1,000 as well as $5 for every referral!! This is LEGIT and VERIFIED (see proof below from the last $1,000 promotion) and literally only takes a few minutes to do. Offer ends August 21, 2021 so don't miss out on scoring 1K in cold hard cash for yourself!
Go here sign up and create an account.
Make a One-Time Investment of $5.
Refer 5 friends to sign up and make a first investment of $5 and get a Free $1,000 Bonus.
Withdraw your balance to your bank or keep it in your Acorns account and invest it; it's all up to you.
You'll also get a $5 bonus added to your account after you make your one-time $5 investment AND another $5 for every friend you refer.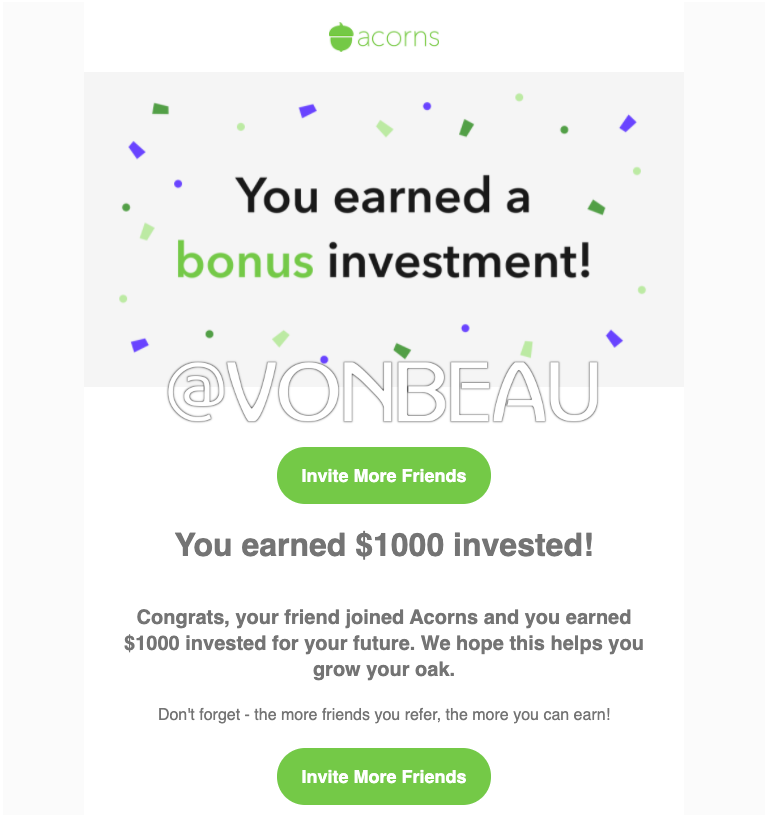 About Acorns
Acorns is a financial service that helps you invest your money. They enable you to start early, invest often, and feel secure about your financial future. Acorns is totally free to try. Once an account is opened, they charge only $1 per month for Lite accounts. The fee will be deducted from your billing account automatically each month. There are no early, standard, or other withdrawal fees. It is always free to move money in and out of your Acorns account. Cancel your plan at anytime.
The links in this post contain our referral link. Thank you so much for signing up if you do! Feel free to share your own referral link in the comments section below.