FREE Stadia Premiere Edition, Chromecast Ultra, and Stadia Controller for YouTube Premium Subscribers
Tuesday, Nov 10, 2020 | 2 Comments | Disclosure
If you subscribed to YouTube Premium prior to November 6th, you can get Stadia Premiere Edition for FREE (a $99.99 value), which includes a Chromecast Ultra and a Stadia Controller, when you sign up for the free month trial of Stadia Pro. Make sure you're logged in with an eligible YouTube Premium account then click here and click "Get your Stadia gift" to sign up for a month of Stadia Pro for free to claim yours. You can cancel the free trial at any time, and you'll still get the free hardware.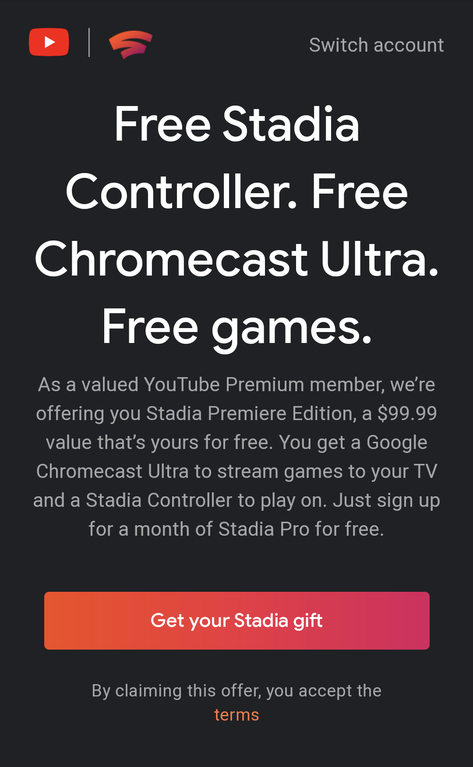 The Offer is only open to YouTube Premium Members who meet ALL the following eligibility criteria:
- have an active paid YouTube Premium subscription as of November 06, 2020;
- 18 years or older residents of the United States (excluding Hawaii, Guam, and the U.S. Virgin Islands). Supervised family link users are not eligible to participate in this Offer;
- and accept these Terms & Conditions ("Offer T&Cs") below by November 20, 2020 11:59 pm GMT.
Offer will be available on a first come, first served basis, subject to availability;
- and create or have an existing Stadia Pro account or have had one in the past including Stadia Pro trials using the same Google Account as the YouTube Premium subscription by November 29, 2020 11:59 pm GMT.