$20 Worth of NatureBox Snacks for Only $4.95 Shipped
Wednesday, Oct 28, 2020 | Comment | Disclosure
IT'S BACK!!! NatureBox is once again offering new members a FREE $20 Credit to spend on their delicious snacks made with high-quality, simple ingredients! Even better, if you don't like a snack, they'll apply a credit to your next order! To get started, click our link here and enter your email address to get your FREE $20 then choose from over 100 delicious and unique snacks and your $20 discount will be automatically applied at checkout. If your subtotal is $20 or less, all you'll pay is $4.95 for shipping. You can pay with Amazon Pay, or a credit or debit card.
Additional Info
PLEASE NOTE: This is a monthly subscription (see below) but you can cancel at any time. You are under no obligation to continue after your first deeply discounted order.
About Naturebox
Naturebox is a wholesale, members-only club where you can save up to 40% on every order, every day. Get $5 in store credit every month - that's $60 each year! Get free shipping within the US on all orders over $25. Plus, if you don't love a snack, they'll fix it. Your first 30 days of membership are FREE - no strings attached! After the first month, membership is only $30 per year. Membership can be canceled with no charge in the first 30 days. After that, you may opt out of auto-renewal at any time.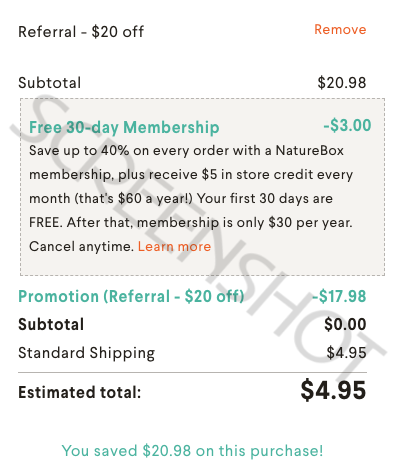 Feel free to share your referral link in the comments below! To do so, simply click on register or log in at the top right of this page (rotate screen if on mobile) then post your comment with your referral link.