Update: The sponsored ad is for 20% off not a free sample. Sorry for the misunderstanding.

FREE Sample of Organic Medjool Dates
Mar 21, 2020 @ 7:40AM CDT
|
Comment
Joolies is offering a FREE Sample of Organic Medjool Dates through a Sponsored Ad on Facebook. There is no way to link directly to this because it's targeted. It has to pop up in your feed for you to be able to claim it. Try the following suggestions to possibly get the offer to show up in a day or so. First, like the Joolies Facebook page then like a few of their posts. Next, search "Joolies" on Google and scroll down through the results page for a few seconds. Also, search "Joolies" on Facebook and do the same. Close everything out then open Facebook and keep an eye on your newsfeed for the free sample offer post to show up (see screenshot below). Once you see it, click the "Get Offer" button and follow the steps to claim. Let us know if you get it!
About
Organic Medjool dates from a single source farmily farm in California, CA. Sustainable eco-friendly packaging, no plastic clamshells! Fresh, never dried organic medjools are hand-picked from our family farm in Coachella, California. Medjool dates and organic medjool date syrup - Paleo-friendly, vegan, kosher, halal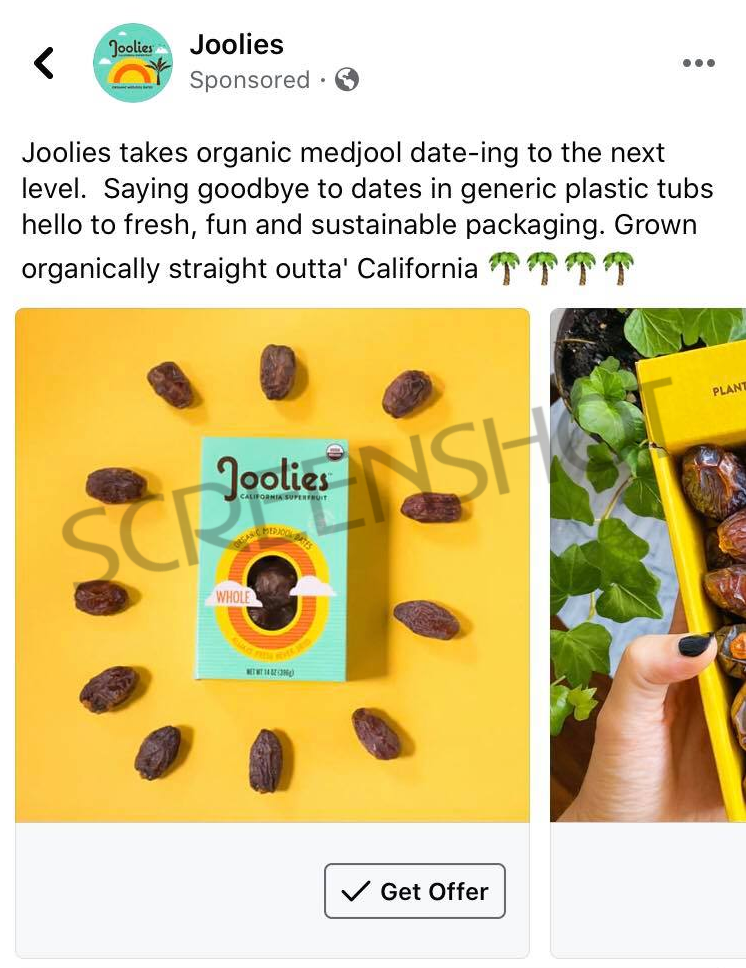 Thank you for sharing, Manisha!
Posted by MrsVonBeau ~ See more
Samples