24-Pack Purified Drinking Water 16.9 fl oz Bottles ONLY $1.70 Each w/ Free Pickup at Target
Sunday, Mar 1, 2020 | Comment
You can score a 24-pack of 16.9 fl oz Bottles of Good & Gather Purified Drinking Water for just $1.70 each at Target when you follow the step by step instructions listed down below! These 24-packs are regularly $2.79 each so this is a great time to stock up!! PLUS, pay with your REDcard and save an additional 5%!
CLICK HERE to go to the product page on the Target website.
Click on the "My store" location at the top left, type in Meriden for the city then click "Lookup" and click on "Set as my store".
Once you've changed the store, you'll see the price of the water drop from $2.79 to $1.79.
Select the 5% off with Target Circle offer.
Enter the quantity you want to purchase, click "Pick it Up" then "View Cart & Checkout" (ignore the Bottle Deposit Fee and Bag fee as that will be removed in the next step).
Under where it says "Order pickup - Ready within 2 hours at Meriden", click the Change link and change the location to your local store and the discounted price of $1.70 per 24-pack will still show.
Complete your order and pick up your cheap water at your chosen local store! Don't forget to pay with your Target REDcard and you'll save an additional 5%.
Enjoy!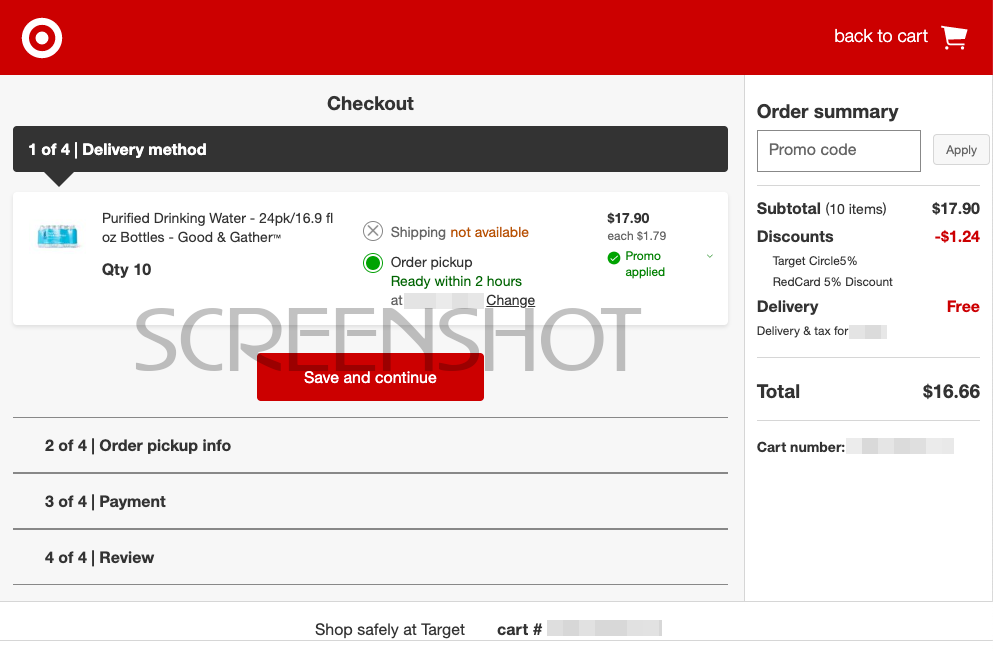 Don't have a REDcard yet?
Click this link and sign up for yours now and you'll be able to enjoy a wide array of shopping benefits, including 5% off every day, FREE Shipping, plus special discounts and promotions.
A big thank you goes out to Kelly L for sharing this deal!