FREE Wildroot Deodorant
Score FREE Wildroot Deodorant for participating in the Wildroot Natural Products prelaunch campaign and referring friends. Your friends JUST need to submit their email. No purchase needed! Click our link then enter your email to sign up and get your link. Share your link below and on your social pages with your friends and family. Only 5 referrals are need to get free deodorant! Shipping will be just $1.
Rewards available: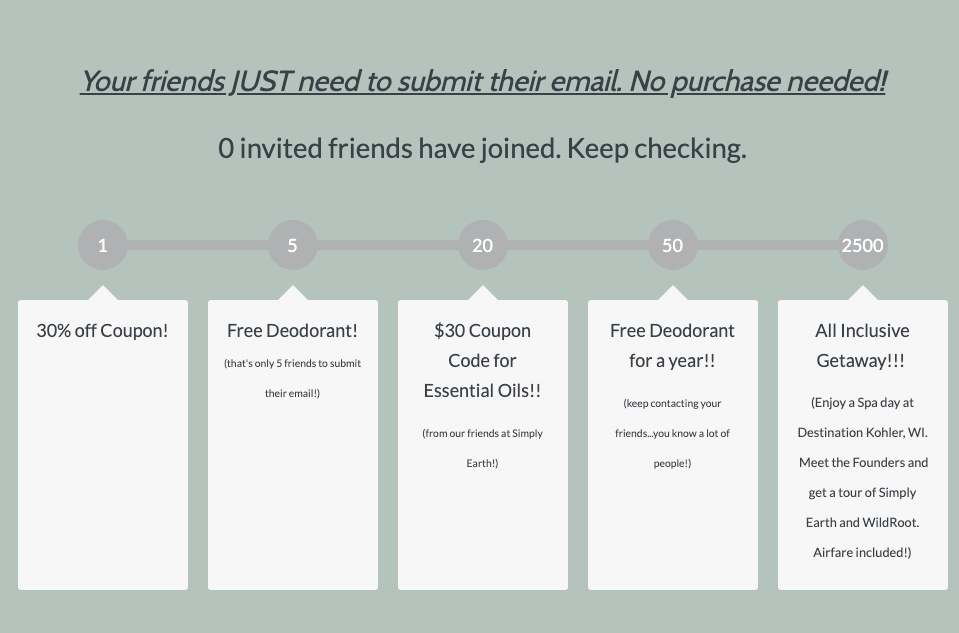 1 Friends = 30% off Coupon
5 Friends = Free Deodorant!
20 Friends = $30 Coupon Code for Essential Oils
50 Friends = Free Deodorant for a year!
2500 Friends = All Inclusive Getaway!!! (Enjoy a Spa day at Destination Kohler, WI. Meet the Founders and get a tour of Simply Earth and WildRoot. Airfare included!)
Remember, all good things can come to an end quickly when abused so please respect the rules of the promotion and do NOT try and cheat by signing up with multiple emails. They CAN see your IP address and if you try and game the system, you will be disqualified for fraudulent activity.
The links in this post contain our referral link. Thank you for signing up through our link if you do.
Posted by MrsVonBeau ~ See more
Freebies