FREE Custom Sijo Bundles
Through September 30th, you could score FREE Custom Sijo Bundles (Candles, Tea, Loungewear, Aromatherapy and Bedding) for simply referring friends to enter the prelaunch promotion through your referral link. No purchase required! To get started, click here then 'Follow Link' and sign up through our referral link or use one from the comments below. Grab your unique link and share it everywhere you can. The more people that sign up through your link, the better the reward you'll earn. You will receive the prize for the highest tier reached by 9/30/19, or any combination of prizes that meet your final referral count. See all available rewards below.
Free Rewards Available:
5 referrals: A Sijo scented candle of your choice
10 referrals: A Sijo scented candle of your choice PLUS a rose quartz roller
25 referrals: Our entire Sijo tea collection (6 total + 1 infuser)
50 referrals: Loungewear for a year! One of each piece of our loungewear collection (10 total) in your chosen size and color.
75 referrals: Aromatherapy for a year! This includes one ceramic aromatherapy diffuser PLUS 10 essential oils
100 referrals: Bedding for a year! Two sets of linen and two sets of bamboo lyocell bedding in the colors of your choice.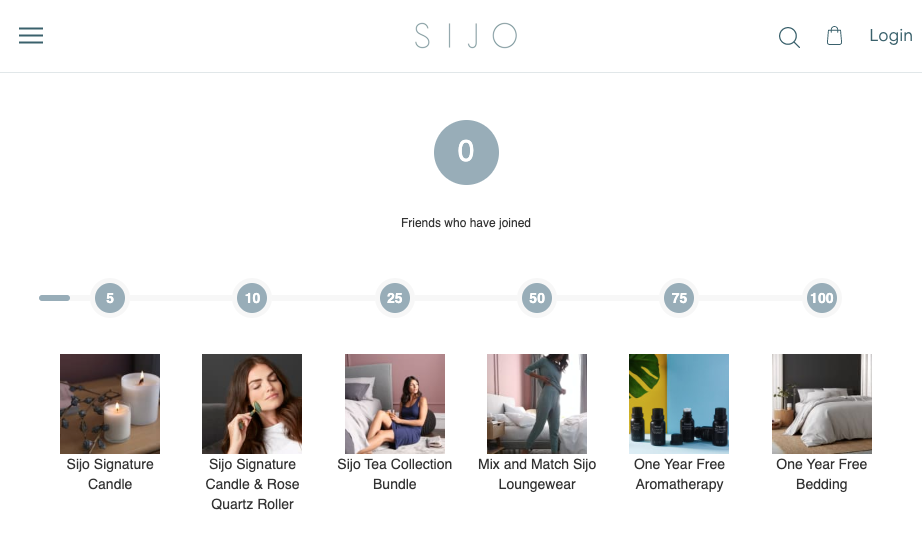 Remember, all good things can come to an end quickly when abused so please respect the rules of the promotion and do NOT try and cheat by signing up with multiple emails. They CAN see your IP address and if you try and game the system, you will be disqualified for fraudulent activity.
The links in this post contain our referral link. Thank you for signing up through our link if you do.
Feel free to share your referral link in the comments below! To do so, simply click on register or log in at the top right of this page (rotate screen if on mobile) then post your comment with your referral link.🙂