Earn FREE Gift Cards Rewards
Drop is an app that lets you earn cash rewards on your everyday credit & debit card purchases and that's on top of any offers from your credit card company. Double dipping for the Win; no extra loyalty cards needed! You'll earn points for every $1 spent at Amazon, Starbucks, Target, Whole Foods Market, Sephora, Office Depot, eBay, Apple and many, many more. Use your points to redeem for FREE gift cards at hundreds of popular retail stores and restaurants and you only need a minimum of 5,000 pts for a $5 gift card!
Click this link and sign up for free then link all the cards you use so you can earn points when you shop. Earn more bonus points when you follow Drop on facebook and twitter, opt in to receive their emails, enable app notifications, link more cards and refer your friends.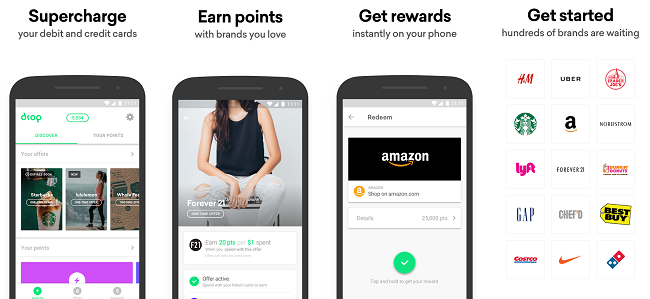 About Drop
Drop points get you rewards including your morning coffee, dinner at your favourite restaurants, and access to the hottest events in your city.
Personalized Offers: Enjoy the benefits of a customized Drop program built just for you. Drop recommends offers from brands you love and gets you more points when you spend there!
Rewards: Drop points can be used towards all rewards across the Drop program. Discover local events happening in your city, dine at some of the best restaurants and get access to the hottest events with your friends.
Invite your friends: Earn more points when your friends sign up with your invite code! Invite your friends and family to earn points along with you on everyday purchases.
Seamlessly earn points: Drop works in the background with your current credit and debit cards. Simply link the cards you already use, no need to take up more wallet space.
Posted by MrsVonBeau ~ See more
Deals