$14 Off Family Box Meal Delivery Kit
Full Cart is offering $14 Off the Family Box Meal Delivery Kit that includes 34 food items when you use the code SUMMERTIME at checkout. Click this link then click "Get Started" and choose the Family Box. Apply the code SUMMERTIME and pay as low as $5.99 for the box shipped! Please note that depending on your delivery address, there may be a delivery surcharge so your total could be a little more. Thank you Brittany!
Additional Info
Code SUMMERTIME will only work on the Family Box.
Family Box Includes
10 Instant Oatmeal Packets
4 Macaroni and Cheese Kits
2 Hamburger Hero — Stroganoff Meal Kits
4 Mashed Potatoes Kits
3 Welch's Fruit Snack Pouches
2 Red Lentil Jambalaya Meal Kits
1 Italian Veggie Pasta Meal Kit (Bulk Bag)
1 Spanish Rice Meal Kit
1 Hamburger Hero — Cheesy Pasta Meal Kit (Bulk Bag)
1 Italian Veggie Pasta — Tomato Flavor Meal Kit (Bulk Bag)
1 Chicken Noodle Soup Meal Kit (Bulk Bag)
1 Zucchini
1 Sweet Potato
2 Justin's Cashew Butter Packets (bonus items)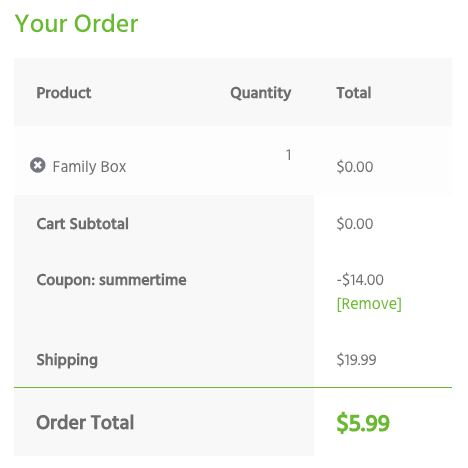 Posted by MrsVonBeau ~ See more
Coupons