FREE The Complete Adventures of Pan Books 1-7 iTunes App
Wednesday, Mar 6, 2019 | Comment | Disclosure
iTunes has The Complete Adventures of Pan Books 1-7 for FREE for a limited time. The first-ever original story series made for iPhone, iPad and Apple TV – it's a magical and uniquely interactive form of storytelling designed for kids ages 4+ to encourage strong values and positive character. The stories include free play, games and exploration, turning iPhone and iPad time into a creative and educational experience. Click this link to download today. This complete set includes ALL 7 books of The Adventures of Pan (#1 Best Seller in App Store Kids & Books in 42+ countries)! Kids will love the timeless story of Pan as she goes on an adventure to rescue her parents and save the world. Requires iOS 8.0 or later. Compatible with iPhone, iPad, and iPod touch. Apple TV.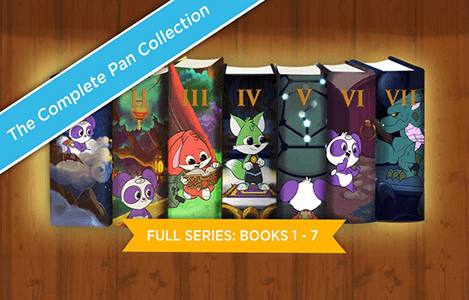 About The Adventures of Pan
When Pandora discovers she's not the orphan her grandfather told her she was, the fearless but hasty purple panda leaves her tribe to rescue her parents. Soon she meets Chase, a hard-headed warrior bunny training to become a Keeper of a sacred book, and Locke, an anxious but loyal inventor fox desperate to prove himself at the Capitol Games. Together they journey to Capitol City, the last place Pan's parents were seen. With a band of obsessed ninja cats on their tails every step of the way, the trio realizes that Pan's parents aren't just missing...they were captured while trying to stop an ancient evil before it could unleash war and destruction on the entire world. But her parents aren't the only ones involved: Pan is exhibiting signs of magic, a magic that trains the eye of evil on her. Will Pan's power save her parents and the world, or destroy them all?