FREE Box of Full-Size Products, Samples & More from Daily Goodie Box
Monday, Nov 5, 2018 | 3 Comments | Disclosure
Who wants a whole box of free samples with a few full-size products as well? Sign up for Daily Goodie Box (it's 100% free) and you could be selected to receive a FREE Box of Goodies by Mail that includes all sorts of samples, full-size products and more. All you have to do in return for the awesome free stuff, is simply try the products you receive and provide your feedback. There's absolutely no catch and shipping is FREE. No credit card required EVER! Click here and enter your name and email address on the form to sign up then check your email for the link to confirm your account (may be in your Spam folder). Be sure to fill out the "Profile" and "About You" section then check back daily to see if a Goodie Box is on its way to you!
Additional Info
Also, be sure to check out the Daily Goodie Box facebook page where they give away free boxes to fans in their posts all the time! Good luck!
Below is a photo of the most recent box of goodies we received from Daily Goodie Box.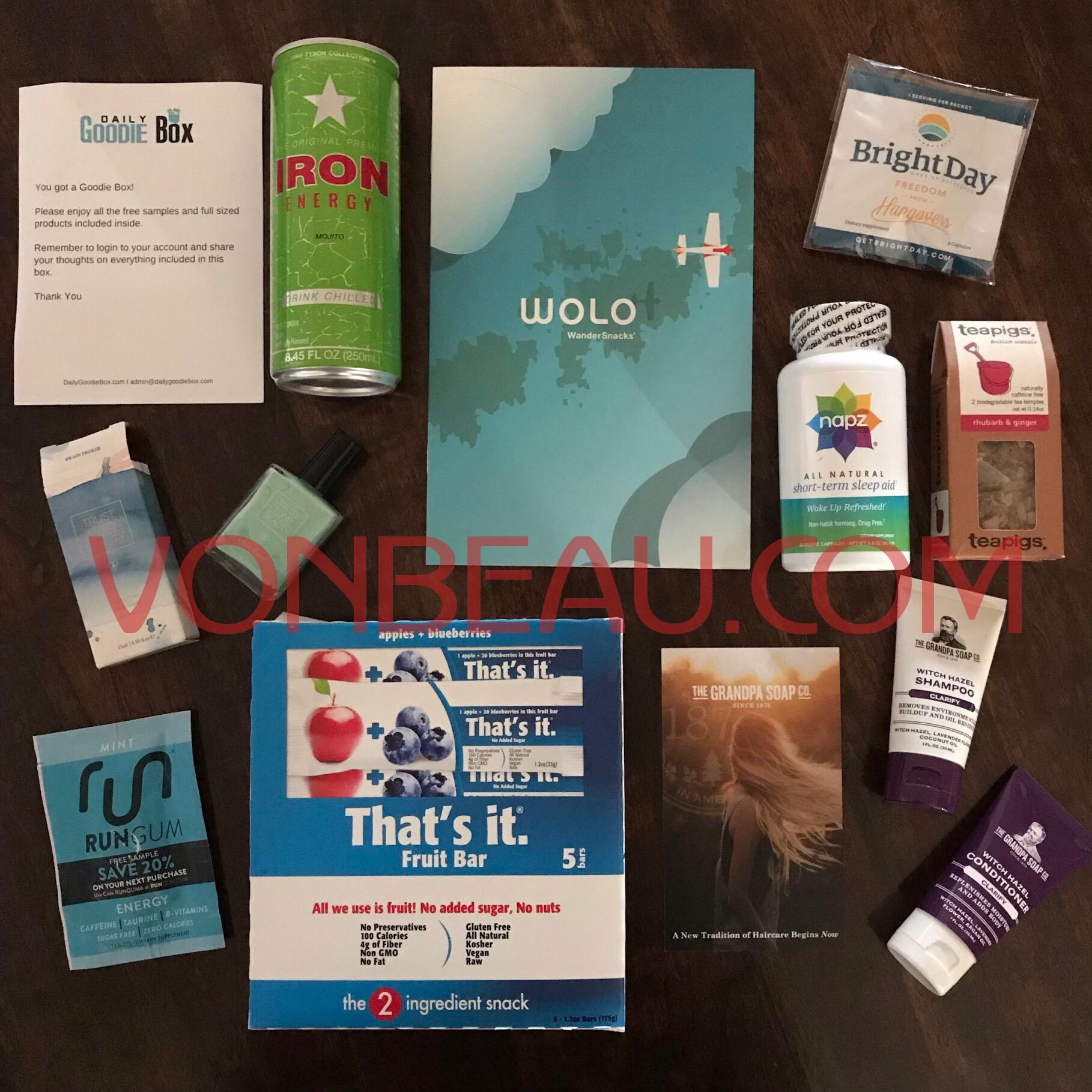 Veroni - Iron Energy (8.25 fl oz can)
RunGum - Energy Gum (sample pack with 2 tablets)
Napz - All-Natural Sleep Solution (full-size bottle)
BrightDay - Hangover Preventions (sample pack with 3 capsules)
Trust Fund Beauty - Nail Polish (full-size bottle)
The Granpa Soap Co - Witch Hazel Shampoo and Conditioner (1 fl oz each)
WOLO WanderBar - Peanut Butter Protein Bar (full-size bar) - Not pictured above because it was eaten before we took the pic
Teapigs - Rhubarb & Ginger Tea (2 tea bags)
That's it - Apple + Blueberries Fruit Bar (full-size box of 5 bars)