FREE $25 Bitcoin Credit for NEW Voyager No-Fee CryptoTrading Accounts
Saturday, Oct 27, 2018 | 3 Comments | Disclosure
Voyager is a commission-free cryptocurrency brokerage that allows you to trade 15+ crypto assets across multiple exchanges with USD. Sign up for early access and you'll get a FREE $25 Bitcoin Credit when you open an official Voyager account during their upcoming Beta launch. Even better, you can earn additional $25 BTC credit for each friend and family member you get to sign up through your link. See details below...
How to get your FREE $25 Bitcoign Credit:
First, click our Free $25 BTC Credit Bonus Link and enter your name, state and email to sign up for early access to Voyager and receive your credit.
Confirm your email address by clicking on the link in the email Voyager sends.
Once you confirm your email address, you'll receive a Welcome email confirming your $25 BTC credit for pre-registering.
Within that same Welcome email will be your unique Voyager referral link that you can share with family and friends to earn additional $25 BTC credit when they pre-register. Currently, there is a maximum of 100 accepted invites.
Credits will be pending until you open an official Voyager account (launch coming soon). Credits from referred friends are pending until they (and you) have an active Voyager account.
Once you're Voyager account is opened, your BTC sign-up bonus will be issued within 60 days. Referral bonuses will be issued within 60 days of the referred individual's Voyager account opening.
Once the BTC credit is issued in your account, withdrawals are restricted for a 90-day period after they are deposited in your account. After this period, you may withdraw your BTC to an external wallet or transact it based on your account permissions.
Voyager is first rolling out in the US later this year. Residents of certain states may not be immediately eligible for a Voyager account. In this case, any earned BTC rewards will be held until Voyager is available in your area.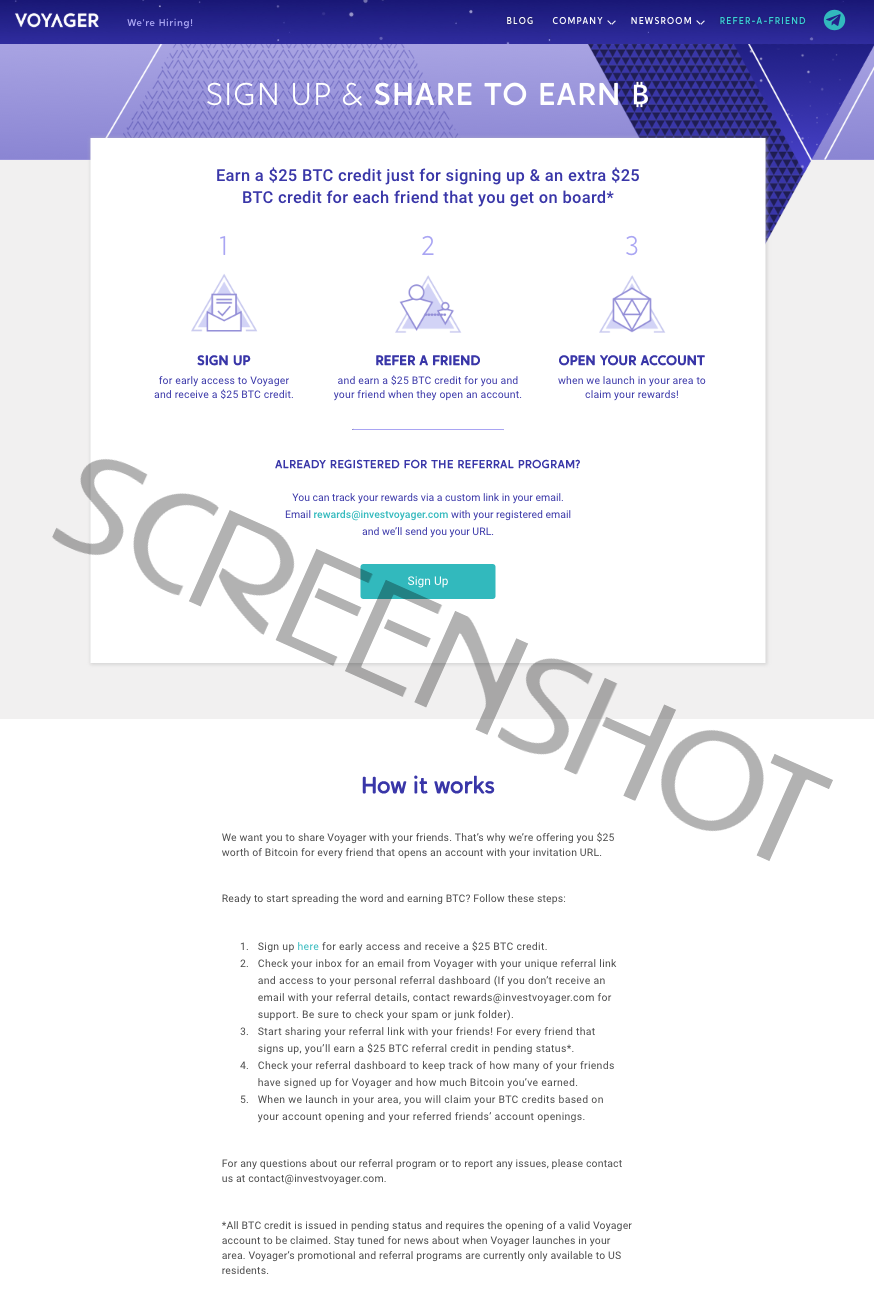 Feel free to share your referral link in the comments below! To do so, simply click on register or log in at the top right of this page (rotate screen if on mobile) then post your comment with your referral link.
About Voyager
Voyager is a commission-free cryptocurrency trading brokerage that offers no-fee trades of at least 15 different cryptocurrencies, including Bitcoin, Ethereum and others.