FREE T-Shirt and a FREE pair of Jeans
ACT FAST!! Be one of the FIRST 40,000 to register and download the ZOZO app to score a FREE T-Shirt and a FREE pair of Jeans for Men or Women (retail value of $108) when you register and download the ZOZO mobile app for iOS or Android. HURRY and click this link then click the "Sign Up Now" button and choose Men's or Women's from the dropdown menu. Select the shirt and jeans you want. Enter your email address then you will need to verify your email by clicking the link in the email fro your smartphone. You will first receive a "Thank you for your interest in ZOZO" email then the next one "Confirm your registration with ZOZO" is the one that contains the link to verify. Once you verify your email, download the app, open it up and register then provide your details to claim your FREE Clothing!! NOTE: Florida and New York residents are not eligible according to the Terms of Participation found here.
Remember, VonBeau does not send out any free stuff. The following screenshot is of the current offer on the company's website at the time of this posting. Samples are not guaranteed. It's at the sole discretion of the company offering the freebie/sample to fulfill any and all requests.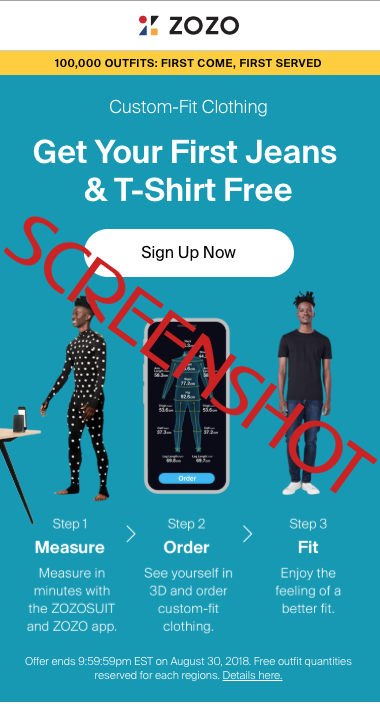 Posted by MrsVonBeau ~ See more
Freebies