FREE copy of How Hard Can It Be?
Feb 16, 2018 @ 1:50PM CST
|
Comment
St. Martin's Press is offering up a FREE copy of How Hard Can It Be? by Allison Pearson over on their facebook page. To request your advanced reader's copy, click this link then click on the 'Sign Up' button in their free book giveaway post and fill out the form. This offer will only be available while supplies last.Allow 1- 6 weeks for delivery. Thank you Sammi!
Remember, VonBeau does not send out any free stuff. The following screenshot is of the current offer on the company's facebook page at the time of this posting. It's at the sole discretion of the company offering the freebie/sample to fulfill any and all requests.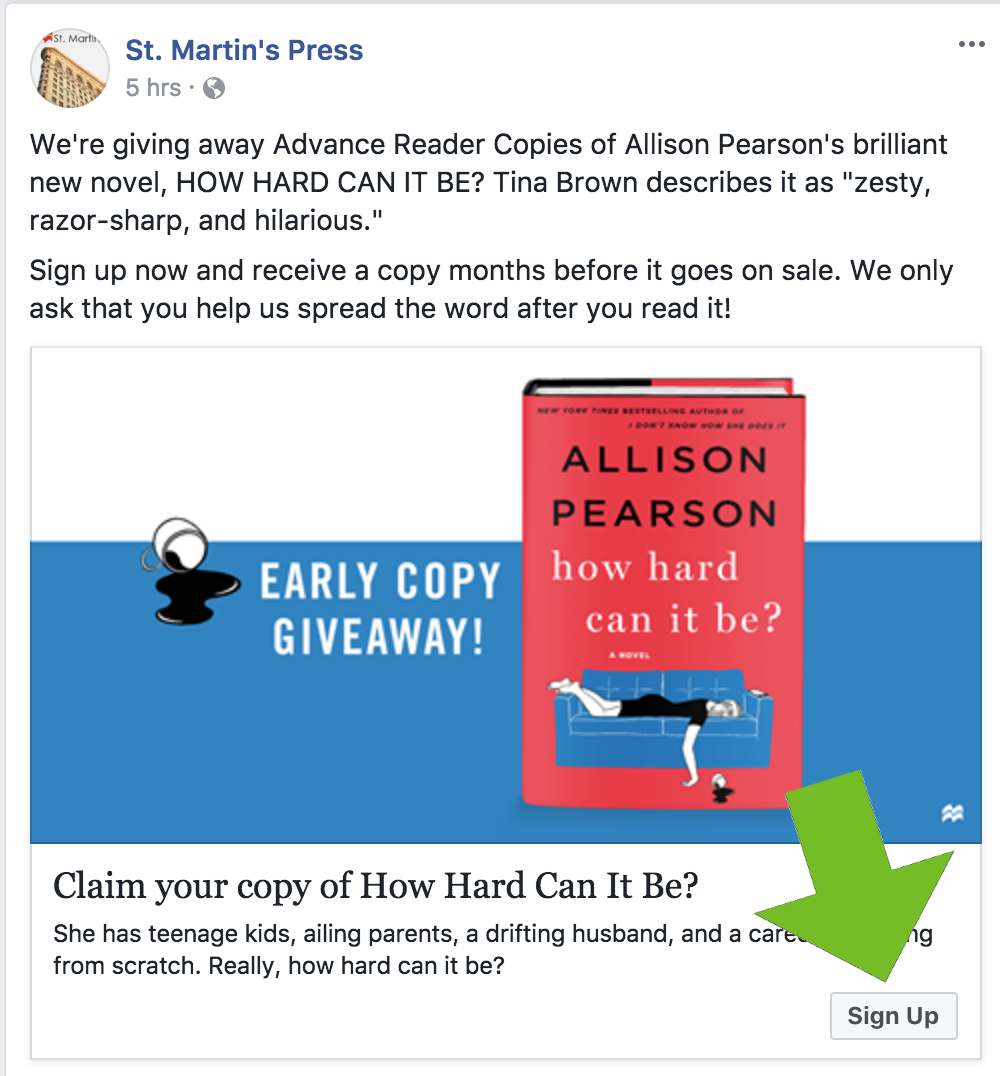 About How Hard Can It Be?
Allison Pearson's brilliant debut novel, I Don't Know How She Does It, was a New York Times bestseller with four million copies sold around the world. Called "the definitive social comedy of working motherhood" (The Washington Post) and "a hysterical look—in both the laughing and crying senses of the world—at the life of Supermom" (The New York Times), I Don't Know How She Does It introduced Kate Reddy, a woman as sharp as she was funny. As Oprah Winfrey put it, Kate's story became "the national anthem for working mothers."
Seven years later, Kate Reddy is facing her 50th birthday. Her children have turned into impossible teenagers; her mother and in-laws are in precarious health; and her husband is having a midlife crisis that leaves her desperate to restart her career after years away from the workplace. Once again, Kate is scrambling to keep all the balls in the air in a juggling act that an early review from the U.K. Express hailed as "sparkling, funny, and poignant...a triumphant return for Pearson."
Will Kate reclaim her rightful place at the very hedge fund she founded, or will she strangle in her new "shaping" underwear? Will she rekindle an old flame, or will her house burn to the ground when a rowdy mob shows up for her daughter's surprise (to her parents) Christmas party? Surely it will all work out in the end. After all, how hard can it be?
Posted by MrsVonBeau ~ See more
Freebies