Free 5x7 Sample of Stonehenge Aqua Watercolor Paper
Tuesday, Feb 6, 2018 | 2 Comments
Calling all artists! Legion Paper is offering up a Free 5x7 Sample of Stonehenge Aqua — the Watercolor Paper of endless possibilities. To request yours, send an email info@legionpaper.com with the subject "Stonehenge Aqua Sample" then provide your name and mailing address. This offer will only be available for a limited time and could end without further notice.
Remember, VonBeau does not send out any free stuff. The following screenshot is of the current offer on the company's website at the time of this posting. It's at the sole discretion of the company offering the freebie/sample to fulfill any and all requests.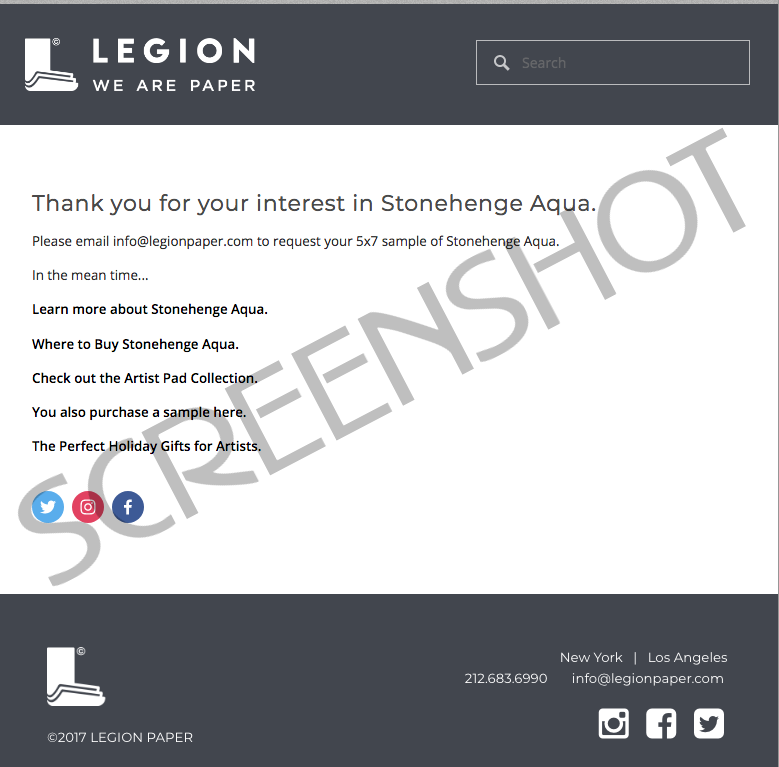 About Aqua Stonehenge
Making possibilities a reality is why Stonehenge Aqua came to be. Watercolor is all about possibilities. Because it's not just about beautiful paint. There's another factor: a wonderfully, whimsical element – water. Together, they allow for form and flow, chaos and connection, beauty and structure.
Quick Search