3 FREE Pai Skincare Product Samples
Interested in trying new skincare products? You can request up to 3 FREE Pai Skincare Product Samples for a limited time. They'll even ship them for FREE too! Click this link then fill out the form and select the three products you'd like to try out. Choose from: Avocado & Jojoba Hydrating Day Cream, Geranium & Thistle Rebalancing Day Cream, Chamomile & Rosehip Calming Day Cream, Echium & Macadamia Replenishing Day Cream, Rosehip BioRegenerate Oil, Age Confidence Facial Oil - Echium & Amaranth, Instant Calm Redness Serum - Sea Aster & Wild Oat, Perfect Balance Blemish Serum - Copaiba & Zinc, Copaiba Deep Cleanse AHA Mask, Rosehip BioRegenerate Rapid Radiance Mask, Kukui & Jojoba Bead Skin Brightening Exfoliator, Echium & Argan Gentle Eye Cream, Comfrey & Calendula Calming Body Cream, Fragonia & Sea Buckthorn, Instant Hand Therapy Cream and Head To Toe Hero Buriti Balm. Thank you John! Leave a comment below and let us know which products you pick to sample!
The following screenshot is of the current offer on the company's website at the time of this posting. It's at the sole discretion of the company offering the freebie/sample to fulfill any and all requests. Remember, VonBeau does not send out any free stuff.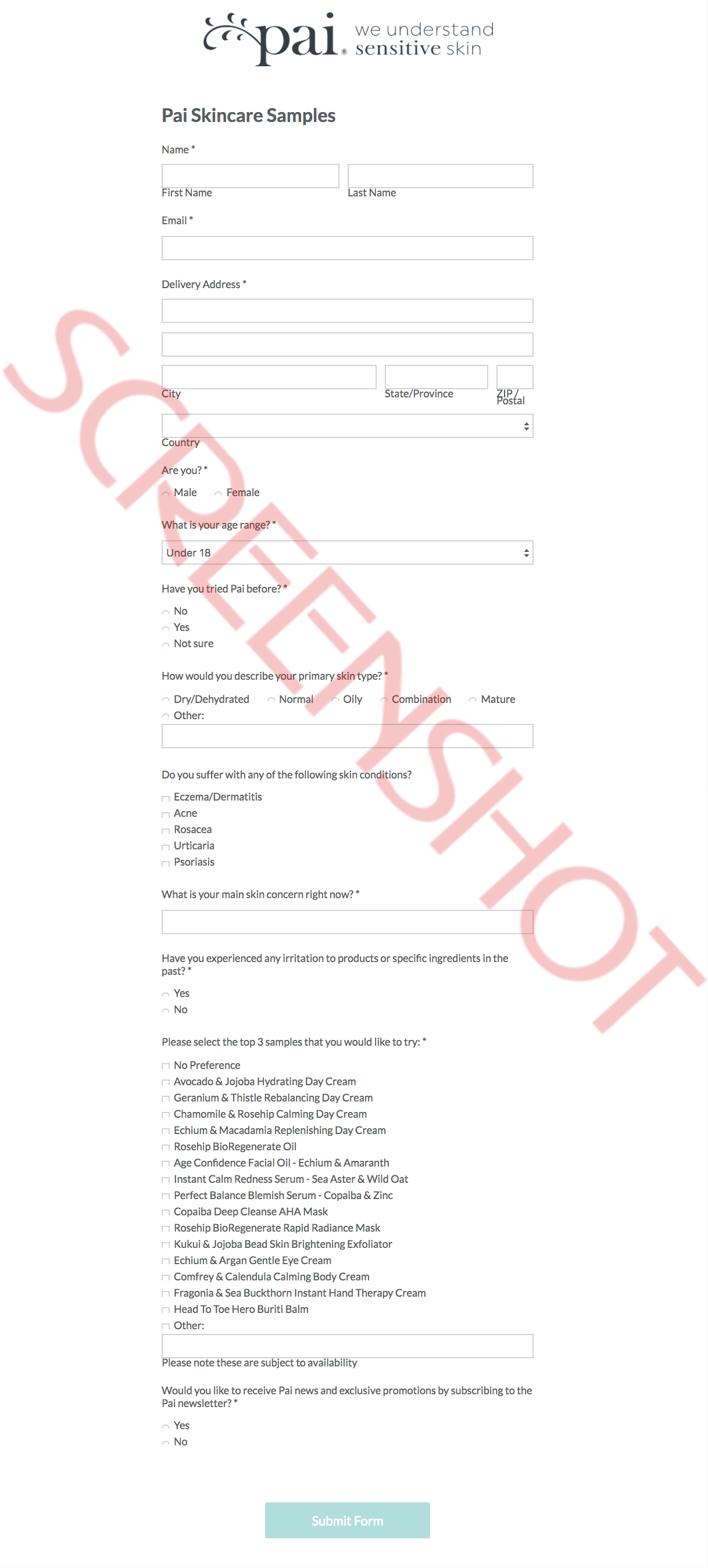 About Pai Skincare
All of Pai Skincare's products are certified organic by the Soil Association. Their creams are vegan friendly & contain absolutely no ingredients tested on animals. They were the first cosmetics company to list their ingredients in plain english, so customers know exactly what's in the bottle.
Posted by MrsVonBeau ~ See more
Samples