FREE Harley-Davidson T-shirt
Harley Davidson is offering up a FREE limited-edition Harley-Davidson T-shirt when you take a test ride on a new Harley-Davidson motorcycle before 8/31/17. Motorcycle license is required to test ride. No purchase required. *HINT: Click here then enter any random 10 numbers, choose your shirt style and size then fill out the form and send off your request. No ride needed for this method 😉. Please keep in mind that it's possible requests may not be fulfilled without a dealer provided unique code. Supply and sizes are limited; limit one order per household.
Remember, VonBeau does not send out any free stuff. The following screenshot is of the current offer on the company's website at the time of this posting. It's at the sole discretion of the company offering the freebie/sample to fulfill any and all requests.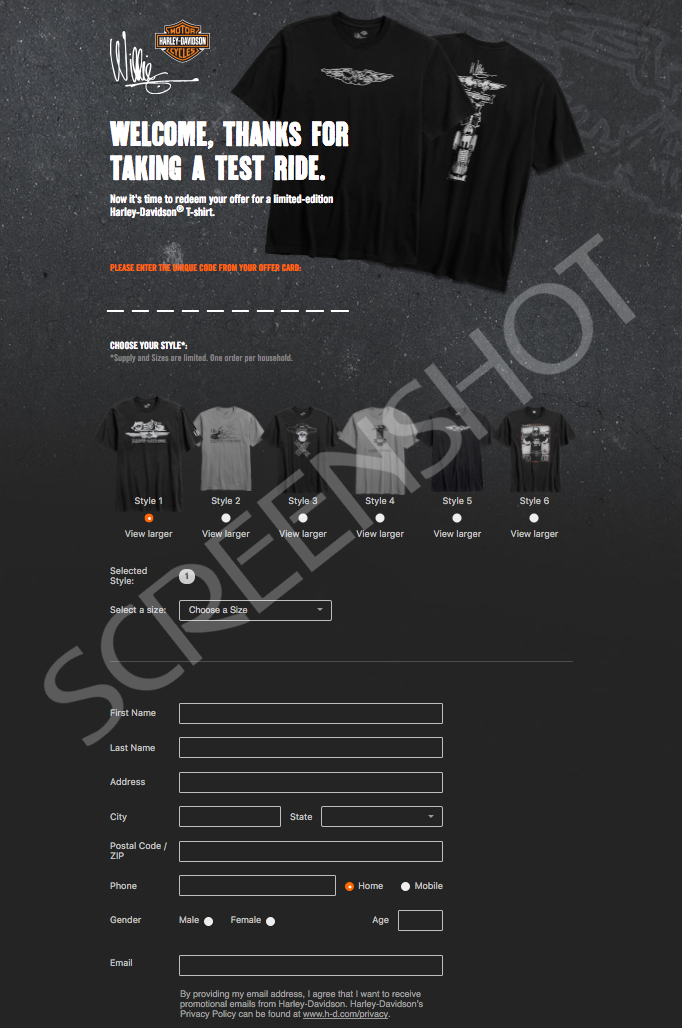 About Harley Davidson
Harley-Davidson, Inc. (H-D), or Harley, is an American motorcycle manufacturer, founded in Milwaukee, Wisconsin in 1903. Besides motorcycles, the company licenses and markets merchandise under the Harley-Davidson brand, among them being apparel, home decor and ornaments, accessories, toys, and scale figures of its motorcycles, and video games based on its motorcycle line and the community.
Posted by MrsVonBeau ~ See more
Freebies