FREE Pair of Morgan Flat Outs Shoes
You can score a FREE Pair of Morgan Flat Outs Shoes and more for participating in the new prelaunch from Flat Out of Heels and referring your friends! You can win prizes with just 10 successful referrals. A referral is a friend who signs up using their email address — they don't need to buy anything or do anything special. To get started, sign up through our link or one from the comments below. Grab your referral link then share with your friends and family. Once enough people have signed up through your link, you'll earn a reward (see below). Thank you Danielle! **Be sure to share your referral link in the comments below!** To do so, simply click on register or log in at the top right of this page (rotate screen if on mobile) then post your comment with your referral link. 🙂 Limit one entry per household/ip address. Do NOT try and cheat by entering multiple times with different email addresses. They CAN see your IP address and you will be disqualified.
Rewards available: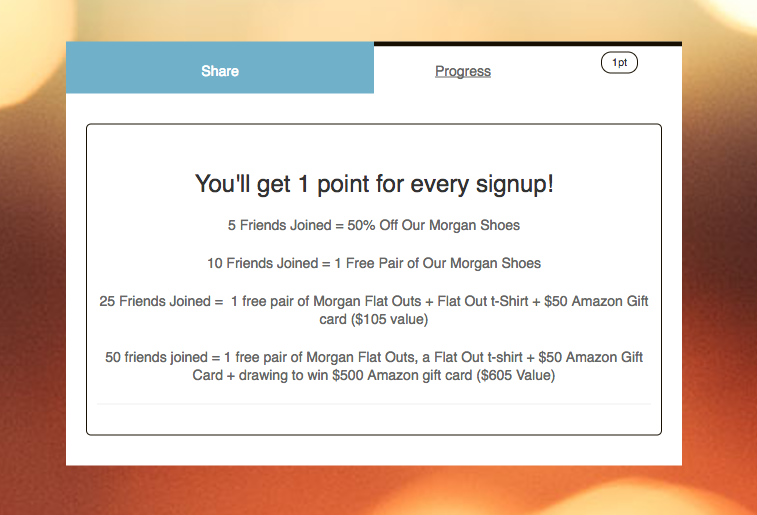 5 friends joined = 50% Off Morgan Shoes
10 friends joined = 1 Free Pair of Morgan Shoes
25 friends joined = 1 free pair of Morgan Flat Outs + Flat Out t-Shirt + $50 Amazon Gift card ($105 value)
50 friends joined = 1 free pair of Morgan Flat Outs, a Flat Out t-shirt + $50 Amazon Gift Card + drawing to win $500 Amazon gift card ($605 Value)
About Morgan Flat Outs
Flat Out of Heels are rollable ballet style flats that can be used as an emergency flat and worn for everyday use. Flat Out rollable flats are stylish, comfortable and compact. Flat Outs come rolled tightly in a disposable box with a shoe bag conveniently included with the purchase. Flat Outs are compact enough to fit in a small clutch purse.
Posted by MrsVonBeau ~ See more
Freebies