Free BreathRx Whitening Toothpaste
If you have a Facebook, you can get a coupon code redeemable online for a FREE 4 ounce tube of Sonicare BreathRx Whitening toothpaste (that's a $9.99 value) with FREE Shipping. Click here from a computer (or try switching to desktop mode if you're mobile an get an error) then click the "Sign Up" button in the post, select YES from the dropdown then enter your name and email address. Check your inbox for an email title "Thank you for registering – Your discount awaits" that will contain your unique discount code and a link to the product. Apply your code at checkout, confirm your total is $0 then click the only payment icon and submit your order. PLEASE NOTE: No payment info required and since your total will be $0 the carrier should not try to collect any type of payment on delivery. However if they do, you can just refuse the package. Thank you Taylor and John!
After you apply your discount code, this is what your order summary should look like if the offer is still available.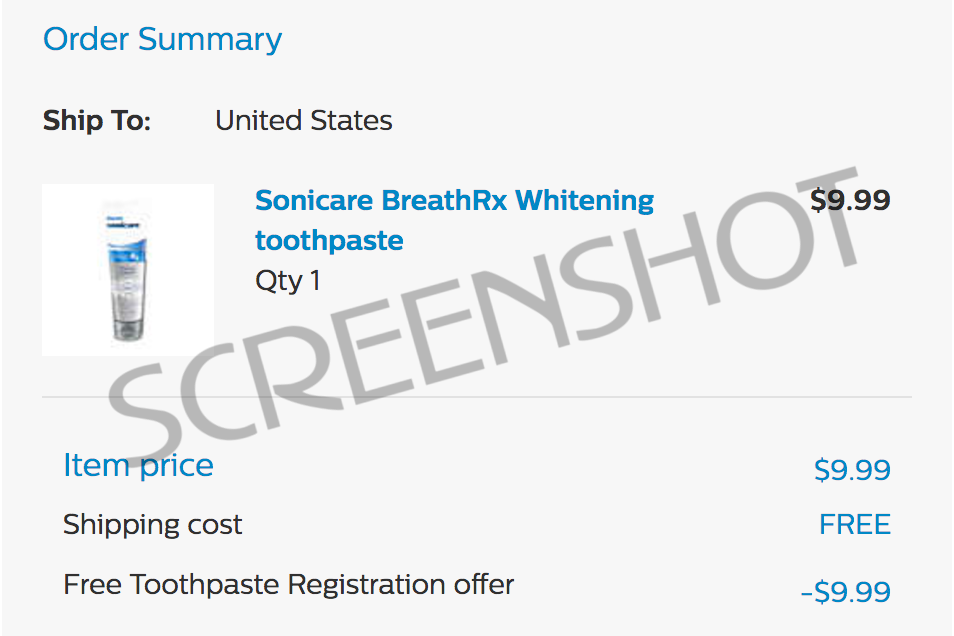 About Sonicare BreathRx Whitening Toothpaste
Fresh breath and a healthy smile. BreathRx toothpaste contains a unique blend of zinc and essential oils to attack and neutralize bad breath odors, plus stain removal for enhanced whitening, and fluoride for cavity and tartar protection.
Posted by MrsVonBeau ~ See more
Coupons