FREE copy of The Witcher: Enhanced Edition
Ars Technica has teamed up with GOG.com to give away a FREE copy of The Witcher: Enhanced Edition PC game (regularly $9.99). Click here then enter your email address to claim your free code. These codes are only available for a limited time so grab yours today! Once you have a code, head to GOG.com to redeem the code and download the game. It'll work on Windows or MacOS (no Linux version of this particular game).
About This Game
Become The Witcher, Geralt of Rivia, a legendary monster slayer caught in a web of intrigue woven by forces vying for control of the world. Make difficult decisions and live with the consequences in an game that will immerse you in an extraordinary tale like no other. Representing the pinnacle of storytelling in role-playing games, The Witcher shatters the line between good and evil in a world where moral ambiguity reigns. The Witcher emphasizes story and character development in a vibrant world while incorporating tactically-deep real-time combat like no game before it.
The following screenshot is of the current offer on the company's website at the time of this posting. It's at the sole discretion of the company offering the freebie/sample to fulfill any and all requests. Remember, VonBeau does not send out or give away any free stuff.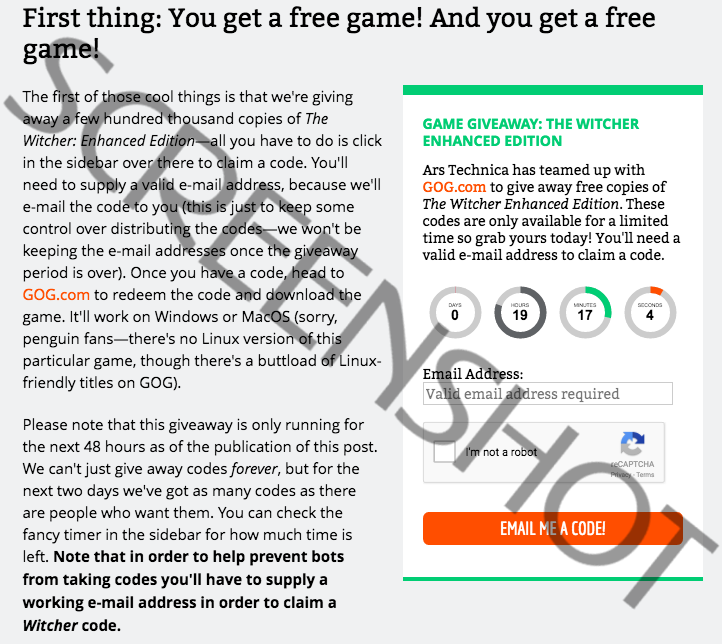 Posted by MrsVonBeau ~ See more
Freebies