FREE $3 to spend at Kmart or Sears
This HOT ShopYourWay 'Doorbuster' $800 New Years Bonus Cheer Instant Win Game is giving out a FREE $3 in points (3,000 points) to EVERYONE that plays, even if it says you're not a winner! If you have not played yet, follow the instructions below to get your FREE Money to spend at Kmart or Sears!! Please note this may only be a doorbuster for select members. Add me as your Free Personal Shopper and I can help you save money with all your in-store or online purchases. Thank you Wendy!
Use your free points to shop on Kmart.com or Sears.com to get something priced at $5 or less for FREE or get $5 off any order! You can also redeem your points on an in-store purchase.
NOTE: Once the "Doorbuster" banner at the top of the sweeps photo is gone that means no more instant free points are available.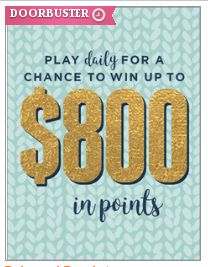 Doobuster Points Details: Awarded as Sweeps DoorBuster. Valid on items sold by Sears or Kmart. Excludes Lands' End, Food, Household Cleaning, Beauty and Health Care, Fragrances, Cosmetics, Office and School Supplies, Batteries, Party Supplies sold in the Greeting Card department, Books and Magazines, Prescriptions, Pharmacy, Alcohol and Tobacco items, all coupons and other surprise points.
Posted by MrsVonBeau ~ See more
Freebies