FREE $32 Jade Bloom Credit to Spend on Essential Oils & Products
| 5 Comments | Disclosure
Through the Jade Bloom Online University learning platform, you can earn a FREE $32 in Jade Bloom Credit to spend on essential oils, soaps, skin care products, toothpaste, diffusers and more. The whole process will take you about an hour but then you'll have 8,000 points to shop for FREE with! Follow the instructions exactly as listed below to sign up and get this *HOT* freebie deal before it's gone! Thank you Gina!!
First, click here and sign up through our link (or one from the comments below) by clicking on "Log In" at the top right then "Create an account".
Next, go here and enroll in The University for free.
Complete all 4 courses and score 100% on each to earn up to 8,000 points.
Now it's time to shop! Click here then add items totaling up to $32 to your cart.
Apply your points at checkout and you'll only have to pay a very small amount (our total after points applied was just $0.05!).
Complete your purchase then look for your order to arrive in about 7-10 days.
Share your referral link in the comments below and earn 50 points when someone uses it to sign up and another 500 when they place an order! To find your referral link, click on "My Account" at the top of the Jade Bloom site then "Refer Friends" on the left side or click here then log into your account.
$32 of FREE product is reserved once per unique household potentially worth 8 free bottles.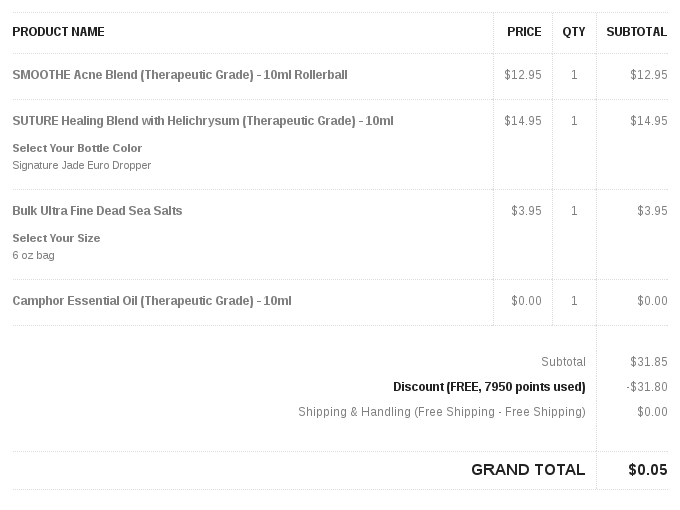 About Jade Bloom
Jade Bloom is a trademarked brand of W8 Distributing Inc. and was founded by a naturalist-centric group that wholeheartedly believes the God-created earth contains everything we need for holistic healing and healthy living. Jade Bloom was founded with the primary purpose of providing the purest therapeutic essential oils and educating others about the differences in how oils are created. Jade Bloom's commitment to its' customers is to only provide the absolute best natural essential oils through quality control, proper distillation & extraction methods, and the use of clean and safe packaging materials and facilities. Jade Bloom is passionate about educating consumers and adhering to sound science.
Feel free to share your referral link in the comments below! To do so, simply click on register or log in at the top right of this page (rotate screen if on mobile) then post your comment with your referral link.