Get 2 FREE Cans of Gerber Baby Formula and a $5 Off Coupon
Wednesday, Jul 30, 2014 | 1 Comment | Disclosure
Get 2 FREE Cans of Gerber Baby Formula and a $5 Off Coupon - Are you planning to formula feed or know someone that does? Hurry over and join MyGerber and they will mail you a can of Gerber Good Start Gentle powder formula 12.7 oz, a can of Gerber Good Start Soothe powder formula 12.4 oz and a $5.00 coupon for Gerber Good Start Formula purchase at Target. Total Value $34.28! Formula sample estimated to ship 4-6 weeks from registration. This offer is for the first 100 daily and it resets at 10pm MT!
Click the banner directly below to sign up.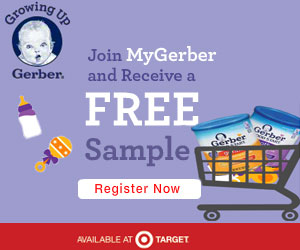 MyGerber
MyGerber takes you on a guided journey that helps make early childhood nutrition simpler. It's packed with tailored content, personalized features, and interactive tools, to help you nourish your baby right, right from the start.